Ralph Lauren is an American entrepreneur, fashion designer, and the owner of the Ralph Lauren Corporation, a multibillion dollar global clothing enterprise. As per Forbes, Lauren's estimated net worth in 2014 was about $7.1 billion, making him one of the richest people in the world.
Sponsored link
Ralph is one of the most successful, critically and financially, fashion designers in the world. He is a legendary brand and his creations have redefined and reinvented the fashion scene several times over. His uber trendiness and unique fashion sense are visible in his clothing line as well as in his sophisticated lifestyle, thereby making him a true style icon. It was Ralph's Polo brand that allowed working professionals to dress to work in style and power through the 1980s.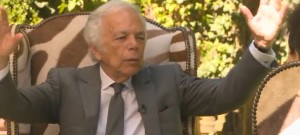 Lauren started his career as a fashion designer with a $50,000 loan in the 60s and built that small investment into a multibillion dollar apparels empire. This embodies his qualifications as a keen businessman. He was the first designer to own his own store as well as the first one to sell the complete lifestyle home line, including fragrance, furniture, kids fashion, and even a gourmet restaurant. Lauren always stands firmly for all his products and is known for his ability to overcome financial failures with courage and conviction, all of which are the hallmarks of a great businessman.
Lauren is also known for his extensive collection of rare cars and his taste for exotic automobiles, including a 1937 Alfa Romeo, a 1929 Bentley, and a 1938 Bugatti. Some of his cars are displayed as showpieces in museums. Lauren owns a Hawker private plane and a Gulfstream G650 private jet.
In 2010, Nicolas Sarkozy, the then President of France named him as the 'Chevalier de la Legion d'honneur.'
The Personal Life of Ralph Lauren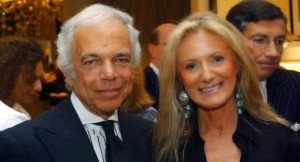 Lauren was born as Ralph Lifshitz on October 14, 1939, in The Bronx, New York. His parents, Frank Lifshitz and Fraydl, were Ashkenazi Jews who had emigrated from Pinsk, Belarus. He went to day school followed by Marsha Stern Talmudical Academy, then called MTA, and finally graduated in 1957 from DeWitt Clinton High School. He then attended Baruch College and studied business before dropping out.
Lauren told Oprah Winfrey that his name had the word 'shit' in it. This lead to a lot of ridicule in school. Hence, he changed his last name; the name change was not for any other reason, religious or otherwise. James Stewart and John F. Kennedy were his heroes during his school days. Ralph wanted to have a movie star personality like them as well as become a millionaire when he grew up.
Lauren married Ricky Anne Loew-Beer, the daughter of a Jewish father and an Austrian Catholic mother, on 24th December 1964 in NYC. He had met her at an ophthalmologist's office 6 months earlier. She was a receptionist there. Ralph did not tell his parents about his marriage as Ricky was only half Jewish. The couple have 3 children.
Ralph was diagnosed with a non-malignant brain tumor in 1987. The tumor was surgically removed and Lauren had a complete recovery.
The Career of Ralph Lauren
Lauren served in the US Army for 2 years, from 1962 to 64. He then worked as a sales assistant for a brief period at Brooks Brothers. He left the company and started working as a salesman for a tie firm. There, Lauren designed a European-style wide necktie after seeing a similar one being worn by Douglas Fairbanks Jr. The design was rejected by the company as being commercially non-viable.
Sponsored link
He then left the tie firm and founded his own company in 1966. He initially operated his tie business out of a drawer at the Empire State Building and also sold them to small shops in the city. His big break came when Neiman Marcus purchase 1200 ties from him. Subsequently, Lauren got financial aid from Norman Hilton and opened a necktie shop. It was here that he first began selling his own designer ties under the 'Polo' label. The rest as they say is history, from getting the rights to use the Polo trademark, to releasing a line of women's suits, to unveiling his first clothing collection for women, to 1997, when his company Ralph Lauren Corporation became a public enterprise and traded under the symbol RL on the New York Stock Exchange.
The Real Estates and Homes of Ralph Lauren
Manhattan Apartment: This Fifth Avenue duplex is Lauren's posh pad. It features chic white interiors and styling that matches the persona of the billionaire owner.
High Rock Jamaican villa: Located at the Round Hill resort in Montego Bay, this was the first house bought by Lauren in Jamaica, about 20 years ago. It is spread across 20 acres and is surrounded by the stunning Caribbean Sea on one side and lush rainforests on the other 3 sides. Amenities include a private beach, a big screening room, a spacious veranda, and a big pool.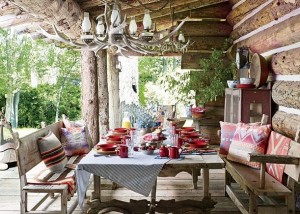 Double RL Ranch: Located on the outskirts of Telluride, Colorado, this 17,000-acre ranch overlooking the picturesque San Juan Mountains is the private vacation getaway of Lauren. He purchased the property for $27.5 million in 1982.
Cottage 26: Located in Montego Bay, Jamaica, Lauren purchased this waterfront home in 1996 to accommodate the space needs of his growing children. The 4 bedroom home was beautiful to begin with, but Ralph renovated it and made it more beautiful.
Beach House: Located at the end of Long Island, New York, this 5.5-acre property is elegant, cozy, and compact. It was once owned by Yoko and John Lennon.
Bedford Mansion: Located in Eastern England, this Norman-styled stone mansion covers 17,000 acres and is full of lush greenery.
Ralph Lauren Philanthropy
Lauren is a co-founder of the Nina Hyde Center for Breast Cancer Research located at Georgetown University.
He is a supporter of the yearly Fashion Targets Breast Cancer initiative; of Breakthrough, a premier breast cancer charity organization in the UK; of the 'Pink Pony Fund,' a global campaign in the battle against cancer; and of Memorial Sloan Kettering, one of the major cancer centers in the world.
The Polo Ralph Lauren Foundation was set up in 2001. It helps numerous charitable causes, including the Ralph Lauren Center for Cancer Care and Prevention based in New York.
In 2014, in partnership with The Royal Marsden NHS Foundation Trust, Lauren funded the building of a high-tech breast cancer research center.
Sponsored link