Prince Harry (Henry Charles Albert David) is the younger of the two sons of Diana (Princess of Wales) and Charles (Prince of Wales). He is the fourth in-line to succeed his grand-mother Queen Elizabeth II. He was born on September 15, 1984 in St. Mary's Hospital in London, England. He did his education in a few schools in United Kingdom, following which he went to Australia for further studies. Later, he embarked on a military career where he trained for being an officer at the Royal Military Academy at Sandhurst. He was a second lieutenant in the Blues and Royals, a cavalry regiment of the British army, which is also a part of the Household Cavalry Regiment. In 2007,  the 1.89 meter (6 feet 2 inches) tall  Prince served for seventy-seven days in Helmand, Afghanistan. He was pulled out and returned to the same country in 2012 where he was deployed with the Army Air Corps for a year.
Sponsored link
On March 17, 2015, Prince Harry announced that he would be taking leave of the British Army, after being in service for ten years. He said that it was a tough decision as he reflected on his tough and proud life of leading from the front in Afghanistan.
Prince Harry childhood photos
Sponsored link
Earlier before joining the army , Harry earned a reputation for being extremely interested in sports, participating in many games but was also given the title of a wild child, for his rebellious streak. He has been know to have clashes with paparazzi regularly. Harry is the third most popular member of the Royal Family after William and the Queen.
 Prince Harry – James Hewitt controversy
There were a few rumors that persistently claimed that Harry was the son of James Hewitt, with whom his mother Diana had an affair. But James has denied it, saying that Harry was born even before the relationship had begun. Also, a DNA test in 2003 proved that there was no relation between James Hewitt and Prince Harry.
Prince Harry- Girlfriends
Prince Harry dated Chelsy Davy, the daughter of a South African businessman called Charles Davy. Harry however did not issue clarity about the relationship to the press and it was reported in 2009, the couple had split after being in a relationship for five years.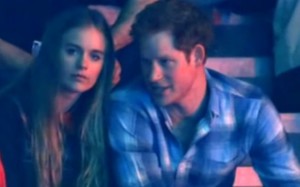 There were reports that Prince Harry was dating Cressida Bonas, grand-daughter of the British poet Edward Curzon. While the news floated about the beginning of a relationship in 2012, it was announced two years later that the couple had a mutually agreeable separation.
Prince Harry Net Worth
Prince Harry is worth $40 million, as his brother William. Princess Diana had put a good part of her wealth in the trust funds of her two sons to be inherited.
Sponsored link