Padma Lakshmi is a renowned American cookbook author, model, actress along with an executive producer and television host. She wrote a cookbook by the name of Easy Exotic which even won Best First Book award in the year 1999 at the Gourmand World Cookbook Awards. She has been hosting the US reality TV show "Top Chef" since 2006. She has even received a nomination for the Primetime Emmy Award for Outstanding Host for a Reality or Reality-Competition Program for this show.
Sponsored link
Early life and Education
Padma Lakshmi was born on 1st September 1970 in New Delhi, India. Her father was a Pfizer executive and his first wife who also happens to be Padma's mother, was a nurse who specialized in oncology.  The recipe queen's mother  tongue is Tamil and she grew up in both her grandparents' house in Chennai and her mother's in New York. She is the only child of her parents' and her parents got separated when she was only one year old. They got divorced a year later.
Padma Lakshmi went to Workman High School in California from which she graduated. She graduated from Clark University in Worcester, Massachusetts BA Honors in Theatre Arts. She speaks fluent English, Tamil, Hindi, Spanish and Italian. She started her career when she was 21 as a model. She has states that she happens to be the first Indian model to have a career in Paris, New York and Milan. She paid off her college loans while she was working as a model and actress. She has modeled for some of the top designers like Ralph Lauren, Giorgio Armani, Gianni Versace and Alberta Ferretti. She also made her appearances in ad campaigns for Roberto Cavalli and Versus.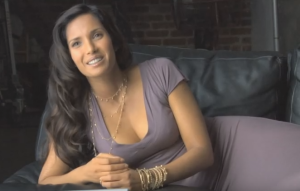 Rise in her Career
She was a favorite model of Helmut Newton who was a photographer by profession and therefore, he would photograph her often specially highlighting the scar on her right arm. She made appearances on the covers of Vogue India, FHM, Redbook, Cosmopolitan, Asian Woman, Harper's Bazaar, L'Officiel India, Avenue, Industry Magazine, Newsweek, Marie Claire (India Edition) and Town & Country. She also posed nude for May 2009 issue of Allure magazine. She has also hosted a food network series by the name of Padma's Passport in which she cooked recipes across the globe. She was seen making appearances in several films and in television as well.
She even made a guest appearance on the shows 30 Rock in 2009, and Whose Line Is It Anyway? in 2014. The 1.75 meter tall dusky beauty writes for The New York Times and has written articles on Vogue Magazine on style for the American edition. She even launched her personal collection of jewelries. In 2004 and in New York City, Lakshmi got married the novelist Salman Rushdie who was twenty-three years her senior. In 2007, the couple filed for divorce. Rushdie's novel Fury is dedicated to her in which she was one of the lead characters.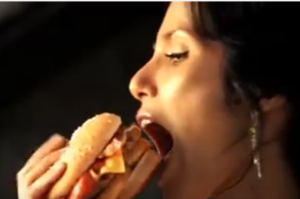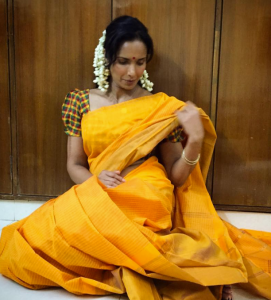 Sponsored link
Padma Lakshmi  – Scar Pictures (How She Got it)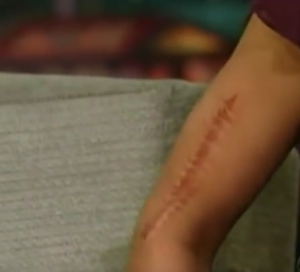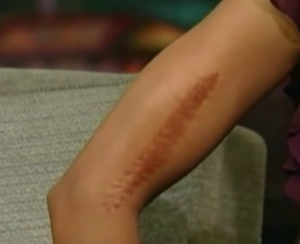 When Lakshmi was only 14 years old, she met with a car accident in Malibu, California. The injuries from the accident were extensive; she required a major surgery on her right arm which had left a 7-inch scar between her shoulder and her elbow. The accident also left Lakshmi with a fractured right hip. Her scar accentuates her beauty.
Padma Lakshmi  – Net Worth
Her net worth is 20 million as of this date. But her little daughter Krishna Lakshmi  already has a net worth of $1.8 billion.
Padma Lakshmi's daughter Krishna and her $1.8 billion fortune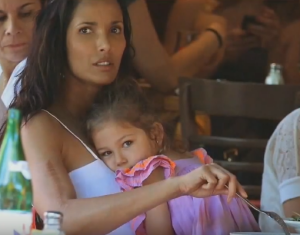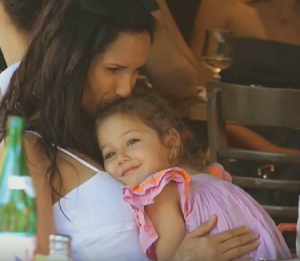 Padma Lakshmi had an affair with Adam Dell, the brother of Michael Dell, the founder of Dell Computers. She had a girl from him, called Krishna , born on February 20, 2010. After they split,  Adam Dell fought a bitter court battle for full custody and his name in his daughter's birth certificate.  Finally, in 2012, Adam succeeded and the court granted him full custody of the daughter, as well as extra custody and visitation rights.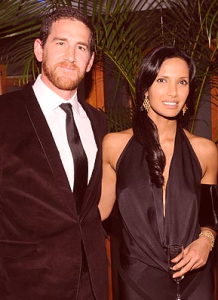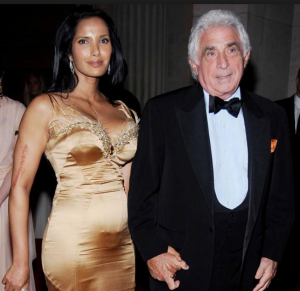 Meanwhile, since 2010, Padma Lakshmi was in a relationship with billionaire Ted Forstmann, who died at the age of 71, in 2011.  Ted had put up Padma Lakshmi's daughter Krishna's name as inheritor of his fortune, which came to $1.8 billion. Meanwhile, Padma Lakshmi had told the court that Ted was actually the child's biological father.  A DNA test proved otherwise, and the courts gave Krishna's her biological father Adam Dell's name as well as custodian rights. The court also  recognized the fact that Krishna was the heiress of Ted Forstmann's $1.8 billion wealth.
Sponsored link