Muhammad Ali, born as Cassius Marcellus Clay Jr, is an American Professional Boxing legend. He is counted as one of the greatest heavyweight champions in the history of the sport in the last hundred years. By virtue of his skills displayed inside the ring and his inspirational influence in the society, he has been heralded an iconic figure. Ali was conferred upon with many honors in his lifetime for his sporting spirit, namely "Sportsman of the Century" by Sports Illustrated and "Sports Personality of the Century" by the BBC.
Sponsored link
Early life and background
Muhammad Ali was born on January 17, 1942 in Louisville Kentucky.  His father, Cassius Marcellus Clay Sr, earned his livelihood by painting billboards and signs while his mother Odessa O'Grady was a household domestic. Ali was the eldest son of the family. The fate of young Ali was changed by a strange incident. Once he was enraged at a thief who stole his bicycle. He filed a complaint against the thief with the Louisville policeman Joe Martin and expressed the desire to whip the robber. It was then that Martin suggested young Ali to learn boxing. During his early days, it was Martin who trained him the tactics of the sports. Chuck Bodak was his coach during the last four years of his amateur career.
Career Achievements
The People's Champion as he is widely known, Muhammad Ali's career is full of achievements. He debuted in the year 1954 and registered his first win by spilt decision. Thereafter, he won the Golden Gloves tournament for novices in 1956 in the lightweight category and the National Golden Gloves Tournament of Champions and Amateur Athletic Union's national title in the lightweight category in the year 1959.
By dint of his excellent performance in the amateur career, Ali was successful in winning a seat for himself in the US Olympic Boxing Team 1960. His spectacular win in the tournament won him a 'hero' status. Since then there was no looking back and had witnessed record breaking success in his career. Though he suffered from many low phases in his career, his untiring zeal made him one of the greatest sportsmen the world had ever produced.
During his entire span of career, the 6 feet 3 inch tall Muhammad Ali was showered with many titles like "The Greatest", "Fighter of the Year", "Sports Personality of the Century", "Sportsman of the Century" and so on. He was also conferred upon the prestigious Presidential Medal of Freedom and Presidential Citizens Medal in the year 2005 by the then President of US Mr. George W. Bush. He is also the proud recipient of a star on the Hollywood walk of fame at 6801 Hollywood Boulevard and is also included in the International Boxing Hall Of Fame.
Muhammad Ali – Boxing Record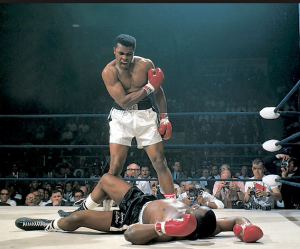 He participated in 61 fights out of which he won 56 of them.  37 of those wins are through knockouts. He lost only 5 professional fights.
Sponsored link
Decline in career and  fight with Parkinson's Disease
Muhammad Ali was diagnosed with Parkinson's Disease in 1984. By 1979, he had become the first heavyweight champion to win the belt 3 times. He announced his retirement but came again soon enough in his bid to win the title for the fourth time.  He had to face Larry Holmes. Before the competition would begin, Ali was on the losing ground. Not only was he not fit, he was also stuttering, his hands were also seen to be shaking unnaturally.  Mayo Clinic however declared him fit for the fight, a statement which was accepted by Nevada Athletic Commission reluctantly.
The fight began on October 2, in 1980 with Larry Holmes easily overpowering Ali.  Ali was seen to be feeling weak and fatigued due to thyroid medications that he had taken for fat loss.  This was the only fight, Muhammad Ali lost by a knockout.  It is believed that the Holmes fight led to the escalation of Parkinson's Disease for Muhammad Ali.   Though he had to retire, Muhammad Ali again decided to fight the last time with December 11, 1981 where he lost to Trevor Berbick.
Muhammad Ali's Parkinson Disease is attributed to trauma in the head causing by boxing knocks. Of course, it is a commendable thing that Ali's most under-rated fight is his fight with Parkinson's Disease, having been relatively healthy nd focused all these years.
 Wives  and Children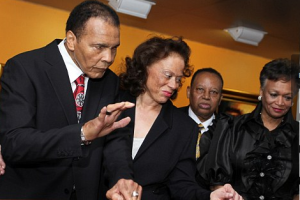 Muhammad Ali married four times in his life. He had seven daughters and two sons from all these alliances. The names of his partners are Sonji Roi, Belinda Boyd, Veronica Porsche and Yolanda (Lonnie).  Lonnie is his current wife.
Muhammad Ali – childhood home in Kentucky
The boxing legend's childhood house in Kentucky is renovated and reopened for fans. The modest two-bedroom and one-bathroom house in Western Louisville takes you back to the 50s, where Muhammad Ali lived with his parents, brothers and sister.
 Houses
The boxing legend has owned many properties which include his two bed roomed childhood home in western Louisville and a luxurious villa in Cherry Hills New Jersey. Currently he is residing in Scottsdale, Arizona.
Muhammad Ali – Net Worth
The all-time famous boxer had a net worth of $80 million
Sponsored link