Michelle Wie is a professional golfer. At only 4 years of age she had learnt to play golf and she displayed great talent. Beginning as a child prodigy she has grown on to become a leading professional lady golfer.
Sponsored link
Early Childhood
Michelle Wie was born on the 11th of October in the Hawaiian capital, Honolulu. Her parents had immigrated from South Korea in the eighties. While her father was a university professor Michelle Wie's mother had in 1985 been crowned an amateur golf champion back in South Korea.
Michelle Wie attended Punahou School right up to 2007 when she graduated. She was then admitted to Stanford University where the grandfather on her father's side had been a visiting professor. An uncle and an aunt were also alumnis of the university. Michelle graduated from Standford in 2012 with a degree in Communications.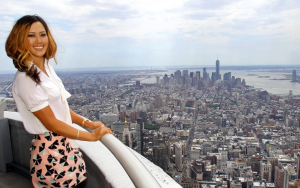 Career
Michelle Wie's entry into the world of golf begun when she was only four. By the time she was 10 she had qualified for the U.S. Women's Amateur Public Links Championship making her the youngest player to ever do so. Wie would go on to win the Hawaii State Women's Stroke Play Championship the following year. And over the course of several years Michelle Wie would go on to score other firsts including qualifying for an LPGA event as the youngest player, making the LPGA cut as the youngest player ever, winning the USGA adult event as the youngest player ever and also making a cut to the US Women's Open as the youngest player ever. And other than breaking records with her young age she also qualified for the USGA national men's tournament, something no woman had done before.
Sponsored link
Michelle Wie turned professional just before she hit 16 years of age. But despite having turned professional Wie was only allowed participation for a select number of the LPGA Tour events because the rules for attaining membership to a professional tour require one to be of majority age.
Her early years in professional golf however were not smooth sailing as it was marked by disappointing performances, injuries and controversies. But the tide seemed to have turned in her favour in late 2009 with her first win as a professional in an LPGA Tour event, the Lorena Ochoa Invitational. She won the US Women's Open in 2014 making it her first win in a major championship.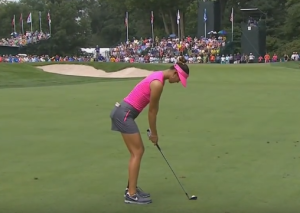 Personal Life
Right up to her early teen years Michelle Wie had been been a dual citizen with both American and South Korean citizenship. She however became a solely US citizen after dropping the South Korean citizenship in the February of 2013.
Michelle Wie is currently in a relationship with Robin Lopez who plays for Portland Trail Blazers as a center. They met while they were both studying at Stanford University. Owing to her height which is 1. 85 meters, Wie goes by the nickname Big Wiesy.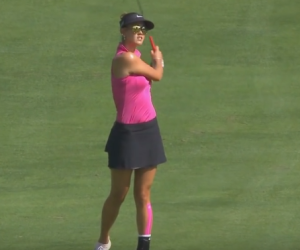 Michelle Wie – Net Worth and Salary
Michelle Wie has a net worth of $12 million. Over the course of her career, she has earned a combined salary and fees estimated to be in the range of over $5 million.
Sponsored link