Dilip Shanghvi is one of the most famous businessmen in India. His name is counted among the richest persons of the country.  He is the founder as well as the current managing director of Sun Pharmaceutical Industries Limited. In the year 2016, the Government of India has conferred this self-made billionaire " Padma Shri" award upon Dilip Shanghvi. As per the reports of 2015" Forbes" real time ranking, Mr. Shanghvi was listed the richest Indian surpassing Mukesh Ambani though in 2016, the latter consolidated his position.
Sponsored link
Early Life and background

Dilip Shanghvi was born on 1st October in the year 1955 in a small town of Gujarat namely Amreli. His father, Mr. Shantilal Shanghvi, was a drug wholesaler in Kolkata while his mother, Mrs. Kumud S Shanghvi ,was a homemaker. He completed his school education from J. J. Ajmera High School. He earned the bachelor degree in Commerce from Bhawanipur Education Society College under the University of Calcutta.
Career Achievements

Shanghvi started his career by assisting his father in his generic drug wholesale business. While working with his father he started dreaming of achieving something big in his life. To transform his dreams into reality , Shanghvi started Sun Pharmaceutical Industries in Vapi in the year 1982 with a modest investment of Rs 10,000.
In the year 1983, Dilip founded the Sun Pharmaceuticals with just five products and five people. But with his excellent business tactics, Sun Pharmaceuticals is currently the largest and the most valued drug manufacturing company in India. In 1997 , Shanghvi acquired an American loss making company namely Caraco Pharma in order to make Sun Phrama's presence felt in the US market. Shanghvi turned this company into a profit making entity in no time. Due to which Sun earns 60% of its revenue from US market. Mr. Shanghvi acquired Israel's Taro Pharma in the year 2007 . With exemplary leadership quality and business strategy , Dilip Shanghvi made Sun Pharmaceuticals the fifth largest generic drug manufacturing company in the global drug market. Apart from this , he is also the chairman and managing director of Shantilal Shanghvi Foundation and Sun Pharma Advanced Research Company.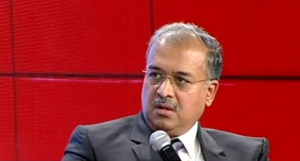 Sponsored link
Mr. Dilip Shanghvi has been conferred upon various awards by different sources due his outstanding contribution in the field of business. In the year 2011 he became CNN IBN Indian Businessman of the year. He also received " Entrepreneur Of The Year" award in the year 2010.
Dilip Shanhgvi – Wife
Dilip Shanghvi is married to Vibha S Shanghvi. The couple has two children- a daughter and a son. Both his children, Aalok and Vidhi work in  Sun Pharmaceuticals. She was gifted Rs. 280 crore worth shares by her mother-in-law in 2015,  increasing her stake in company from 0.28 percent to 0.43 percent.
 Houses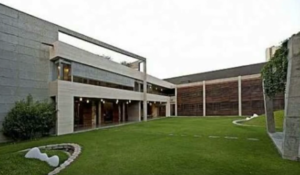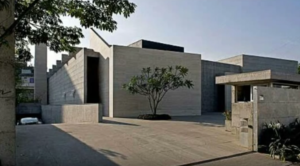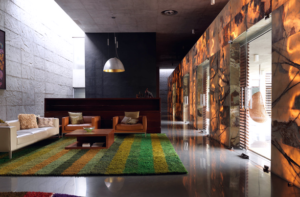 Shanghvi lives with his family in a rather modest house in the suburbs of Juhu in  Mumbai. He is a simple man and hates being in limelight. His house in the city of Surat in Gujarat is adorned with artistic architecture. This project was carried out  by the eminent real estate group of Gujarat namely Matharoo Associates.
Dilip Shanghvi – Net worth
The prolific billionaire's net worth of $16.7 billion makes him the second richest Indian after Mukesh Ambani.
Philanthropy
Apart from putting a share of his money into charitable causes, Shanghvi is also known to donate a part of dividends from Sun Pharmaceuticals into philanthropic causes.
Sponsored link