Marco Antonio Rubio is an American politician, the junior US Senator from Florida, and a Republican Party candidate for the 2016 US presidential elections.
Sponsored link
Early Life
Rubio was born on May 28 1971 to Oriales Rubio (née Garcia) and Mario Rubio Reina in Miami, Florida. His parents had emigrated from Cuba in 1956 before Fidel Castro came into power. His parents were poor; his father had worked as a bartender and his mother as a housekeeper.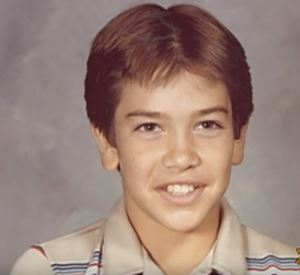 Rubio studied at South Miami Senior High School. After graduating from school in 1989, he went on a football scholarship to Tarkio College in Missouri for a period of 1 year, before transferring to Santa Fe College, formerly called the Santa Fe Community College located in Gainesville, Florida. He eventually graduated in 1993 from the University of Florida with a bachelor's degree in political science. He then attended the University of Miami's School of Law and received a Juris Doctor in 1996. Marco has stated that he had accumulated $100,000 in debt as student loans which was paid off in the year 2012.
Career

Sponsored link
Rubio worked as an intern for US Congressperson Ileana Ros-Lehtinen when studying law. In 1996, he worked in the presidential campaign of Republican US Senator Bob Dole.
In 1998, he was elected as the City Commissioner for West Miami. Two years later, he won the Florida House of Representatives election from the 111th House district.
In late 2000, Marco became one of the 2 majority whips. In 2002, Speaker Johnnie Byrd appointed him as the House Majority Leader. In September 2005, he became the Speaker and retained the position for 2 years.
Rubio left the legislature of Florida in 2008 and launched his own law firm. He concurrently began teaching at the Florida International University. He still teaches there as an adjunct professor.
In 2010, Marco ran for the US Senate as a Republican and won the election. He is currently one of the 3 Latino Americans working in the US Senate. Rubio chairs various committees in the US Senate, including the Foreign Relations Subcommittee on Transnational Crime, Western Hemisphere, Civilian Security, Human Rights, Democracy, and Global Women's Issues as well as the Commerce Subcommittee on Atmosphere, Oceans, Coast Guard, and Fisheries.
In April 2015, Marco announced that he would be seeking the Republican Party nomination for the 2016 US presidential elections and that he would seek reelection to the US Senate. Varied national polls have consistently listed him in the top 4 after Donald Trump.
Personal Life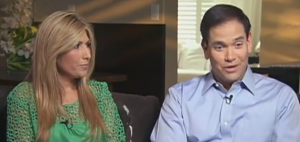 The 1. 78 meter tall Rubio married Jeanette Dousdebes in 1998 at the Church of the Little Flower in a Catholic ceremony. Jeanette is his high school sweetheart and a former Miami Dolphins cheerleader and bank teller. The couple has 4 children and they live in West Miami, Florida.
Jeanette is the owner of a business called JDR Events.
Marc Rubio – Net Worth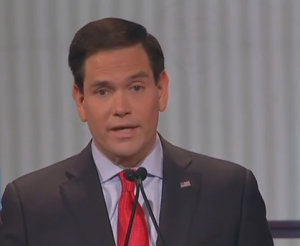 As per varied sources, Rubio has a net worth between $100,000 and $400,000. The source of his wealth include book royalties, rental properties, and salaries as a senator, a teacher, and a lawyer.
Sponsored link