Marc Rich was an American businessman, a hedge fund manager, an international trader in commodities, and a financier. He featured in the list of the richest Americans for several years. In 2010, Forbes had estimated his net worth to be around $1 billion. However, due to lack of enough evidence and information, his name was later dropped from the rich list.
Sponsored link
Rich started out as an active participant in the crude oil spot market and soon became a trader in commodities. He is most famous for being the founder of Glencore, a commodities company. He is infamous for being indicted in the US on federal counts of illegal oil deals with Iran during the hostage crisis and tax evasion. Rich fled to Switzerland on hearing about the charges and never returned to the US. He was the recipient of a controversial Presidential pardon by President Bill Clinton on January 20, 2001, his last day at the Oval Office.
The Personal Life of Marc Rich
Rich was born as Marcell David Reich on December 18, 1934 in Antwerp, Belgium, into a working-class Jewish family. The family immigrated to the US in 1941 to escape persecution by the Nazis.Rich went to the Rhodes Preparatory School and spent one term at NYU. He dropped out of college and started working for Phillip Brothers, now known as Phibro LLC. He also helped his father as a commodity trader. His father had a jute burlap-sack manufacturing company.
Marc Rich – wife  Denise (picture)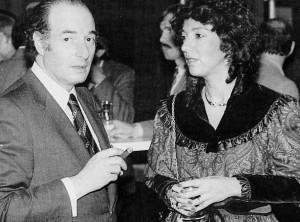 Marc Rich with his second wife Gisela Rossi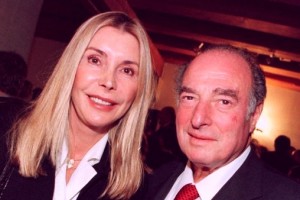 In 1966, Rich got married to Denise Eisenberg. She was the heir to the fortune of a New England shoe production company as well as a songwriter. The two had 3 children (girls), including Gabrielle who died of leukemia at age 27 years in 1996. Rich did not attend her funeral as he was in hiding in Switzerland to evade the US prosecutors. He divorced Denise in 1996 and married Gisela Rossi after 6 months. Their marriage lasted for only 9 years and ended in divorce.
Rich was a staunch supporter of Israel. Over the years, he donated hundreds of millions of dollars to varied research centers, institutions, and theaters located in Israel.
In 1983, after being indicted for illegal oil trading with Iran and tax evasion of $48 million, the largest tax-evasion case in America at that time, Rich left the US and made Switzerland his home. He never came back. The many companies of Rich finally pled guilty and had to pay $90 million as fines against 35 counts of tax evasion. Rich however remained a fugitive. He acquired the citizenship of Spain, but continued to remain a US citizen for purposes of US law. Rich also held the passports of Bolivia, Belgium, and Israel.
Rich was hunted by the law enforcement officials for several years in vain. The hunt was brought to an end after President Clinton's presidential pardon. After investigations into wrongdoing by Clinton, it was found that the pardon was legally valid. However, the pardon was only valid for criminal punishment and Rich would still face civil penalties. Hence, he never returned to America.
Rich spent many years in exile at Zug, Switzerland. He then moved to Meggen city located in the Canton of Lucerne in Switzerland, where he lived a zealously guarded private life in a Lucerne Lake shorefront mansion called 'La Villa Rose.'Rich was also an owner of estates in Marbella, Spain, as well as in the ski resort of St. Moritz in Switzerland. He was a passionate art collector. His close friends have stated that his home was full of masterpieces by Picasso, Monet, and Renoir.
Sponsored link
Rich passed away on 26th June 2013 at a hospital in Lucerne after suffering from a stroke. He was 78 years old at the time of his death. His body was buried in Israel.
 Marc Rich  – career and success story

Rich is considered as the man who, in the early 70s, expanded the spot market for crude oil and thus took the business away from the bigger, established, and reputed oil companies which depended on conventional long-term contracts for purchases in the future. This was why Rich's business partners gave him the nickname 'the king of oil.'
While working for metals trader Phillip Brothers, Rich learnt about the International markets of raw materials and commercial dealing with third world countries. In 1974, he co-founded the company Marc Rich & Co. AG with Pincus Green, in Switzerland. This company later became the mega corporation Glencore Xstrata Plc.
Rich's experience at Philipp Brothers also allowed him to develop amicable relationships with several embargoed countries and dictatorial regimes.In the later days, Rich recounted to Daniel Ammann, his biographer, that his most profitable and most vital business deals could be carried out and turned into success only via violation of international trade embargoes and carrying-on of businesses with and servicing clients such as Fidel Castro's Cuba, the apartheid South African regime, Marxist Angola, Nicolae Ceausescu's Romania, the Nicaraguan Sandinistas, Augusto Pinochet's Chile, and Gaddafi's Libya. Amman has also stated that Rich had no regrets for these business deals. Rich was of the opinion that he was a businessman and not a politician. He stated that people came to him to sell oil and to purchase oil. He was only the delivery service guy.
The most profitable market coup by Rich occurred during the Arab oil embargo of 73-74. Marc used his contacts in the Middle East to evade the embargo and purchase crude oil from Iraq and Iran. He later sold this oil at double the price to the supply-deficient oil companies in the US. Later, after the 1979 Iranian Revolution and despite the American oil embargo, Rich made use of his good relationship with Khomeini to purchase Iranian oil. For over 15 years, Iran remained the primary supplier of crude oil to Rich's companies.
In 1981, Marc Rich purchased 20thCentury Fox with Marvin Davis as a partner. In 1984, after Rich fled the country, Marvin sold Rich's share in the production company to Rupert Murdoch for $250 million.Rich also found another company calledMarc Rich Real Estate GmbH. It was involved in the development of many large scale projects in Europe.
Marc Rich – House, properties owned and art collectibles
 Though he lived for many years in Zug in Switzerland, he shifted base to an upmarket city called Meggen, in Canton of Lucerne, where he built a mansion known as 'La Villa Rose' on the banks of Swiss Lake Lucerne. The house has been heavily guarded and it was virtually impossible for anyone to get in, unless he or she was a known person.
Marc Rich owned properties in Marbella, Spain and a huge ski resort in St. Moritz, Switzerland. Being an art lover, he would collect illustrious works of Picasso, Monets and Renoirs.
Book on Marc Rich
The King of Oil: The Secret Lives of Marc Rich is a riveting tale of oil baron, a no-holds barred biography that lays bare many unsaid secrets.
Philanthropy
Marc Rich never shied away from donating close to $155 million towards Tel Aviv Museum, Israel Museum, cinema houses, theaters and research centers. Calling himself a patriot of Israel, he was ever generous towards funding several institutions and organizations in the country.
Sponsored link