Liliane Bettencourt (maiden name Liliane Henriette Charlotte Schueller) is one of the richest women in the world. With a net worth of $40.1 billion (Forbes), she is the second richest woman in the world second only to Christy Walton and the tenth richest person in the world. She is the owner and principal shareholder of beauty-giant L'Oreal.
Sponsored link
Lillianne was born in Paris, France as the only child to Louise Madeline Berthe and Eugène Schueller, the man who founded L'Oreal. Though her mother died when she was just 5, Lilianne drew close to her father, joining his company in her teens as an apprentice. Her work included labeling shampoo bottles and mixing components of beauty products. In 1950, Lilianne married the cabinet minister in France named André Bettencourt. They have a daughter called Françoise, born on July 10, 1953.
After her father died, Bettencourt become the heir of L'Oréal and the principal shareholder.   The company is now one of the trusted and popular names in the world of beauty and cosmetic care with 66,627 employees working globally.
For quite some time now, Betterncourt has distanced herself from the company, a mud-slinging legal battle with her daughter Françoise Bettencourt Meyers taking a toll on her. She was replaced as a board-member with her grand-son, the 25 year old Jean-Victor Meysers in 2012. There were reports of ten people embezzling millions of Euros from Bettercourt in January 2015.  Bettencourt 92, suffers from dementia, but is still the richest woman in Europe and one of the ten richest women in the world.
Sponsored link
Liliane Bettencourt – philanthropy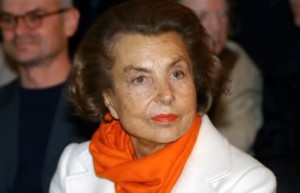 In 1987, Liliane along with her daughter and husband founded la Fondation Bettencourt Schueller ( Bettencourt Schueller Foundation) which has an asset value of 150 million Euros and spends around 15 million annually on scientific research, growth of culture and arts and humanitarian aid.
Liliane Bettencourt – house
In August 2012, Liliane sold D'Arros Island, her abode to Seychelles business group that is associated with Swiss Save our Seas Foundation. She received for £60 million for her sale.
Sponsored link