Wolf Isaac Blitzer is a popular American Journalist and television news anchor. He has been associated with CNN since 1990. He has earned fame due to shows like "Late Edition with Wolf Blitzer". He is also an acclaimed military affairs reporter. He is currently hosting the show "The Situation Room" and a daytime show "Wolf". He also serves as the CNN's lead political anchor.
Sponsored link
Early life and Background
Wolf Blitzer was on born on March 22, 1948 in Augsburg, Germany. His father, David Blitzer, was a house builder while his mother, Cesia Blitzer, was a home maker. His parents were Jewish refugees originally from Poland. They were the survivor of "The Holocaust". His family in subsequent years shifted to United States of America. Wolf spent his childhood in Buffalo, New York. He attended the Kenmore West Senior High School. After completing his school education, he enrolled in the State University of New York at Buffalo and earned the graduation degree in history in the year 1970. Thereafter he joined Johns Hopkins University School of Advanced International Studies and acquired the "Master of Arts" in "international relations". He also studied in "Hebrew University of Jerusalem" and learned Hebrew.
Career Achievements
Wolf Blitzer started his career in journalism in the year 1970 in the Tel Aviv bureau of "Reuters" which is an international news agency. His journalism skills got noticed by Ari Rath, the editor of "Jerusalem Post" in the year 1973. He hired Wolf as a Washington correspondent. He served the newspaper until 1990.
He was also the part of "American Israel Public Affairs Committee" during mid 1970s and served as an editor of their monthly edition "Near Post Report". Wolf had also covered the complete proceedings of the "Egypt –Israel Peace Treaty" from its inception to signing of the treaty. Being proficient in the Hebrew language he had also published articles in various Israel newspapers under the pen names Zev Blitzer and Zev Barak. His first book "Between Washington and Jerusalem: A Reporter's Notebook" got published from Oxford University Press in the year 1985.
Blitzer gained much media attention for covering the news of the arrest and trail of Jonathan Pollard. He was an American Jew who was accused of spying for Israel. Wolf was the first journalist to take interview of Pollard and in subsequent years authored a book namely "Territory of Lies" based on the Pollard incident.  His book was included in the "The New York Times" list of "Notable Books of the Year" in the year 1989.
Sponsored link
He joined CNN in 1990 and initially worked as a military affairs reporter for the channel. He, along with his team covered the first Gulf War in Kuwait and gained much popularity and received the "CableACE Award". He became the White House Correspondent in the year 1992. His outstanding coverage of the 1995 Oklahoma City bombing won him an Emmy Award.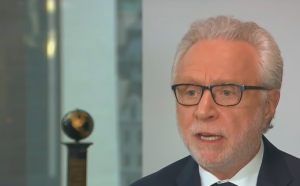 The channel selected him to cover the 2004, 2008 and 2012 Presidential election.  Apart from this, Wolf Blitzer has hosted several shows for CNN which includes "Late Edition with Wolf Blitzer", "The World Today", "Wolf Blitzer Reports" etc. He is currently hosting the show "The Situation Room".
In his glorious career he has been conferred upon many awards such as the 2004 Journalist Pillar of Justice Award, 2003 Daniel Pearl Award, George Foster Peabody Awards, Alfred I. du Pont Award, Edward R. Murrow Awards and many more. His exemplary talent won him the honorary "Doctorate of Humane Letters" from several universities which includes George Washington University, Niagara University, Penn State University, University of Hartford, Howard University etc.
Apart from this, the 1.78 meter tall news anchor has been the part of 2009 documentary "Back Door Channels: The Price of Peace" which was directed by Harry Hunkele. He has also appeared in several movies such as "Skyfall" etc.
Wife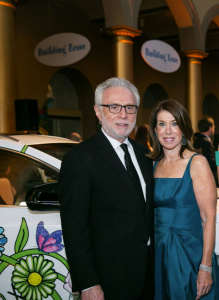 Wolf Blitzer is married to Lynn Greenfield. The couple is blessed with a daughter, Ilana Blitzer Gendelman.
Wolf Blitzer – Net Worth
Wolf Blitzer has a current net worth of $16 million. He earns an annual salary of $5 million.
House
Blitzer resides with his family in a posh apartment in Bethesda Maryland.
Sponsored link