Ruth Porat is a powerhouse in the corporate world. She has had quite an illustrious career in several large corporations, and has become quite an acclaimed technocrat in the financial realm. Currently she is the Chief Financial Officer of Alphabet, the company that owns Google. Before that, she was the Executive Vice President and Chief Financial Officer of Morgan Stanley.
Sponsored link
Early Life  and Education

Born in 1957, in Sale, Greater Manchester, to Jewish parents, Dr. Dan and Frieda Porat, she would later move to Cambridge Massachusetts, when her father got a research position at Harvard University. She graduated from Stanford University and later attained a Master of Science from the London School of Economics. She was quite an academician since she later went on to get a Master of Business Administration from the University of Pennsylvania's The Wharton School. Ruth has attained a number of prestigious positions, including being a member of the Board of Trustees at Stanford University, being a member of the Borrowing Committee of the United States Treasury, the Bretton Woods Committee, and The Board of Trustees of the Economic Club of New York and the Board of Directors of The Council on ForeignR elations. One can sure see just how good she has been at her career.
Career Rise
Ruth Porat honed her career at Morgan Stanley, starting there in 1987, before leaving to work with Robert F. Greenhill, the former President of Morgan Stanley at Smith Barney. However, in 1996, she went back to Morgan Stanley as the Vice Chairman of Investment banking, before she became the CFO. She has worked in several countries including the United Kingdom, when she went to work at the Morgan Stanley branch in London.
Ruth Porat has been featured on many television shows and magazines including Forbes, where her advice on financial matters is highly regarded. Her career has even inspired a movie, by HBO, entitled "Too Big to Fall". It is no small wonder that President Barack Obama nominated her for the position of deputy Secretary of the Treasury in 2013, a position which she declined due to the acrimonious confirmation process, led by Jack Lew, who was the nominee for the position of Treasury Secretary.
Sponsored link
Politically, Ruth has been an influential player and supported the Presidential Campaign of Hilary Clinton, even holding a fundraising for her. She believed in greater taxes for the rich and was vocal on the topic of increased spending, remarking that America cannot cut her way to greatness as a country. Ruth has had quite a glorious career and she is one of the most respected women leaders of this time.
Ruth Porat – Husband and Children
She married Anthony Paduano, the partner with the law firm Paduano & Weintraub. They have three children. Porat is also a breast cancer survivor.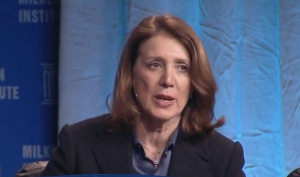 Ruth Porat – Net Worth
She ended up working for Google as their CFO in 2015, and Bloomberg intimated that her projected take-home package could well be in excess of $70 million by the end of the year 2016. One can only marvel at the achievement of this powerful lady, who has concentrated on bettering her effectiveness in the financial sector; the effects of her leadership will be felt in America, and the rest of the world for a long time to come.
Google will pay $5 million as signing bonus, in cash. This is followed by $25 million of Google shares and $40 million as stock awards biennially. Her base salary is $650,000. Ruth Porat is expected to be in the company for at least four years to get $70 million.  The rise in pay is a huge leap from Ruth Porat would earn as income ($10 million annually) as the chief financial officer for Morgan Stanley.
Sponsored link