Manny Pacquio (nickname Pac-Man) is a Filipino World Champion professional boxer. Apart from boxing, he has also been involved in different spheres of activities like basketball, acting and singing.
Sponsored link
Records
The 5 ft 6 1⁄2 tall Manny Pacquiao is the winner of ten world titles; he is the only eight-division global champion. He also has the indistinguishable record of being the first to win the linear competition in four separate weight classes.
The Boxing Writers Association of America (BWAA), World Boxing Organization and World Boxing Council rated Manny Pacquiao as the 'fighter of the decade' for 2000-2010. He won the 'Fighter of the Year' BWAA award three times in 2006, 2008 and2009. Manny Pacquiao is ranked number 3 on pound-for-pound list.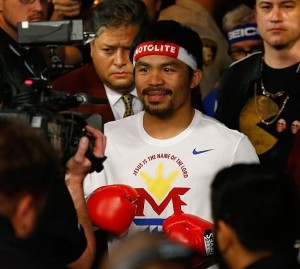 Proficiency beyond boxing
Manny Pacquiao is known for other professional interests besides boxing, including basketball, acting, music and politics. He is the head-coach of the basketball team 'Kia Sorento'. He is the owner of the PBA Developmental League team, known as MP Hotel Warriors.
Manny Pacquiao is a member of the parliament; he was elected to the Philippine House of Representatives, where he represents the Sarangani province.
Manny Pacquiao – family background
He was born on December 17, 1978 in Kibawe, Philippines. His parents separated when he was a child. He is the fourth among six siblings. He had to drop out of school due to poverty. His mother was finding it difficult to make ends meet, with a responsibility of looking after six kids. Manny left his home at the age of 14.
Later in 2007 , Manny Pacquiao passed a high school equivalent exam which made him qualified for college education. He enrolled for a degree in businessman at his place in General Santos City. In 2009, he was awarded the Honorary Degree of Humanities by Southwestern University in recognition of his boxing records and social work.
Entry into boxing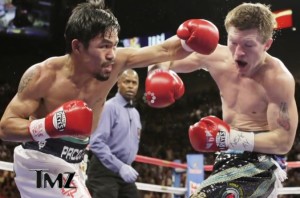 When he was 14, Mr. Pacquiao left his house and was homeless for a while, living on the streets of Manila. He began to take interest in boxing and started training himself for the sport. He was made a part of the Philippine national amateur boxing team, where his stay and other expenses were paid by the government. Pacquiao created an unbelievably amazing amateur record of 60-4 for 64 fights in the category.
The death of his colleague, close friend and aspiring boxer Eugene Barutag made Pacquiao determined to take boxing as a full-time professional career. He started boxing professionally since 1995 and won his first title on June 27,1987 with his fight against Chokchai Chokwiwat
Manny Pacquiao – wife
Manny Pacquiao married Maria Geraldine Jamora or 'Jinkee' (as she is widely known) on May 10, 2000. The couple has five kids, with his daughter Queen being born in the US.  Jinkee Pacquiao is the vice governor of Sarangani.
Manny Pacquiao house
Sponsored link
He has a home in General Santos City in South Cobato. Serving as a congressman for Sarangani, he mostly stays in the government accommodation at Kiama, Sarangani, which is also his wife's hometown. He also has a house in Los Angeles, worth $2.24 million. In March 2015, Mr. Pacquiao bought a Beverly Hills house from Jennifer Lopez, for $12.5 million, which he revamped. This is truly one of the best looking celebrity homes with an inclination on great aesthetics.
Floyd Mayweather Jr vs Manny Pacquiao match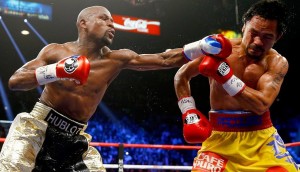 Dubbed as the 'Fight of the Century' the boxing match on May 2, 2015 was a clash of titans with Manny Pacquiao taking on Floyd Mayweather Jr.(the five-division unbeaten world champion boxer). The much-hyped fight took place at the MGM Grand Garden Arena in Las Vegas. Mayweather won the contest by defeating Manny Pacquiao in 12 rounds (118-110, 116-112, 116-112)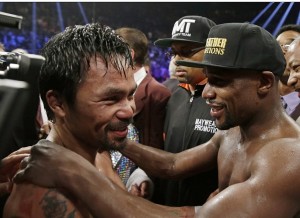 The match had much riding on it in terms of revenue, with money in excess of $180 million to be split between the fighters on a 60/40 basis (Floyd earning the 60 per cent), apart from the winner's cash prize. Both fighters were awarded $100 million for participation. It was the most lucrative boxing match in history with a revenue generation of $300 million
Manny Pacquiao – Retirement
Manny Pacquiao fought with professional American boxer Timothy Bradley in MGM Grand Garden Area on April 9, 2016. The Filipino boxer emerged victorious, having knocked down Bradley twice in the game. Post the match, Pacquiao said," As of now, I am retired. I am going home with my family and serve the people. I will try and talk to my family about it."
 Manny Pacquiao – Book (Autobiography)
The book ' Pacman ' is an autobiography by the star boxer, is an inspirational account on how he started off from the streets and became one of the greatest sport stars of all time.
Manny Pacquiao net worth and earnings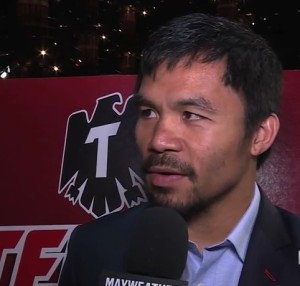 Manny Pacquiao is the second highest paid athlete in the world with a net worth of $250 million. His earnings in 2015 was $160 million out of which $148 million was due to the high profile match with Floyd Mayweather, and around $12 million through various sponsorship deals. He  earns around $800,000 in brand endorsements for top brands like Nike, Monster Energy, San Miguel Beer, Wonderful Pistachios and Hennessey. He earns $15600 in his post as a congressman.
Manny Pacquiao car collection
He may not be so flashy when it comes to cars and flaunting his wealth like Floyd Mayweather Jr. but Manny is also doing pretty fine when it comes to living a lavish lifestyle. He drives a Ferrari 458 Italia worth $255,000 and Mercedes-Benz SL550
Other Businesses
Manny Pacquiao along with his wife run many other businesses which include a merchandise store, gasoline station, dermatology clinic, fashion boutique, a hotel and a water-refilling station. He has expressed his ambition to contest for President of Philippines, once he winds up his boxing career.
Manny Pacquaio philanthropy
Always the man to essay charitable causes, Mr. Pacquaio said that he would contribute 50 percent of the money he receives from his fight with Floyd Mayweather in 2015 to charity. He along with his wife have donated money for school and college scholarships for Sarangani apart from donating fishing boats and other vocational tools for people to create revenue opportunities.
Sponsored link