Jennifer Westhoven is an American correspondent and reporter at HLN (previously known as Headlines News). She has covered news in personal financial, business and issues related to economy. One of the most notable works of Jennifer Westhoven is The Morning show, 'Morning Express with Robin Meade' which was showcased on HLN.
Sponsored link
Early Life and background
Jennifer was born on 16th of August 1971(age 44). She was brought up in Cranford, New Jersey, USA. As a child, she always aspired to become a journalist. After completing her graduation in political science and history from Bryn Mawr College she started her career with Reuters by joining it in the year of 1993 and continued working there till 2000. She joined she joined CNN network in 2000 and since then she is working there.
Career Achievements
There was no looking back, since she started her career in 1993. Firstly she became a part of a reputed international news agency Reuters where she did stock market reporting and interviewed different personalities like Abby Joseph Cohen a financial analyst, Dennis Kozlowski CEO of Tyco International, Richard Grasso former Chairman and chief executive of New York Stock Exchange. Working for 7 years in Reuters, helped her to develop strong skills and quantitative experience. Jennifer then moved to CNN's HLN where she came up a long way. The morning financial show which she hosted regularly is "Morning Express" with co Host Robin Meade. It's said that because of her the show became successful. Along with this she also hosted a mid- morning monetary show named "Your Money" and regularly appears in the "Clark Howard show". Apart from these she also serves the news station as a fill-in anchor for HLN's weekend newscasts. She also covered Enron Scandal and rising economy of China.
Sponsored link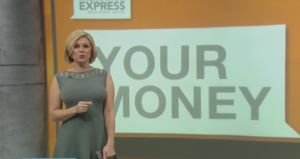 Westhoven's works have been regularly featured in leading financial newspapers such as the London Financial Times, New York Times, and the Washington Post. Jennifer works in Atlanta, having shifted base from New York. In New-York, she worked in the headquarters of CNN's and also in the New York Stock Exchange. In the weekends, her afternoon show 'The Money' gets showcased on CNN channel. Top newspapers like- London financial times, the New York times and the Washington post has covered her story and feature articles from her.
Jennifer Westhoven – Husband
Jennifer is married to Joe Palese, a musician and a yoga teacher. He is very supportive and encouraging and always by her side. They were in relationship since a long time. The couple got married in 2007. After three years of their wedding, Jennifer announced her pregnancy in 2010 December and welcomed their first child James on 21 April 2011.
Jennifer Westhoven –  Net Worth and Salary
With a career spanning  23 years, Jennifer Westhoven is estimated to have approximate net worth that exceeds $2.5 million. Her  annual salary is about $200,000.
Sponsored link