Greta Van Susteren is a commentator and news anchor for Fox News channel. She is an American who hosts "On the Record with Greta Van Susteren. She has been a civil trial and criminal defense lawyer and appeared on CNN as a legal analyst co-hosting "Burden of Proof" with Roger Coassack. In the year 2015, she was listed on the 99th position as one of the most powerful woman in the world by Forbes
Sponsored link
Early life and Background
She was born 11th June, 1954 in Appleton, Wisconsin to father Urban Van Susteren and mother Margery Conway. She is a descent of the Dutch. Her father knew Joseph McCarthy as friends. McCarthy later became a US Senator and Urban, an elected judge. He served as the campaign strategist for McCarthy, but both of them eventually broke the ties. Van's sister Lise, is a forensic psychiatrist in Maryland. She became a candidate for the democratic nomination for US Senate in 2006. She has a brother Dirk Van Susteren who was a journalist and longtime editor for Vermont Sunday magazine.
Greta Van Susteren – Education
In 1972, Van Susteren completed her graduation from Xavier High School in Appleton and University of Wisconsin, Madison in 1976. She studied Economics and Geography and in 1979, received Juris Doctor (J.D) from Georgetown University Law Center. Prior to the start of her television career, she turned back to Georgetown Law as a faculty member. This was done simultaneously with her full-time legal career. Stetson Law School awarded her with a prestigious and honorary award of a degree in Law.
Career
She appeared in CNN during the coverage of O.J.Simpson murder trial as a legal analyst. This eventually led her to co-host CNN's The Point and Burden of Proof. In 1998, Van Susteren made a special guest appearance on the Cartoon Network original series Space Ghost Coast to Coast. After a highly publicized contract, Bidding War, in 2002 she switched to Fox News Channel. Since then, she has been hosting the current affair show On the Record w/ Greta Van Susteren.
Great and her husband help in founding The Greta Home and Academy in 2012. It is a school and orphanage that opened in Haiti. They also founded Samaritan's Purse.
Sponsored link
Greta Van Susteren –  husband and children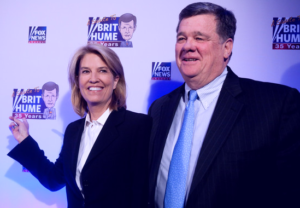 Greta married John P. Coale in 1998. He is a self-described "ambulance chaser" and became popular as the "Bhopal Coale" for his solicitation amongst victims of Bhopal gas tragedy. He has also worked under Sarah Palin as an adviser. The couple is a member of Church of Scientology and pledge to have no affairs to make a happy married life. They have no children together.
Greta Van Susteren – Plastic surgery
Greta seems to have undergone various face enhancing procedures and plastic surgeries. She has openly talked about having cosmetic surgery done. Eye lifts plastic surgery, facelifts, Botox injections are some services used.
Controversy
She once made a controversial statement about Baltimore protestors as "thugs", because of rioting and looting. She never apologized for such a statement.
Greta Van Susteren – Net Worth and Salary
She is estimated to have a net worth of $30-35 million dollar with a salary of $900,000 annually.
House
Greta's house at 179, Duke of Gloucester St. in Annapolis was originally built in 1776. It is a masterpiece art of Colonial structure. A Georgian interior design with elegant rooms (5 bedrooms, 3 bathrooms and 2 powder rooms), and wide hall with wooded flooring is a treat for living a high-end life.
Sponsored link