Candy Alt Crawley is a multi-award winning TV personality who retired from CNN in 2014. She is one of the few women to ever moderate a presidential debate. Crowley is famous for her straight forwardness when asking the toughest questions and her penchant for eliciting controversies, a fact that has made her acquire friends and critics in equal measure.
Sponsored link
Early life
Born on December 26 1948, Candy Crowley grew up in Missouri, though her birthplace is in Michigan. Her father was a salesperson for furniture products, her mom a homemaker.
For kindergarten and senior education, she attended The Principia School, from where she proceeded to Randolph-Macon Woman's College, graduating in 1970.
Career
At graduation, Candy wanted to become a housewife. Her dream was to bear five kids, iron her husband's shirts, and probably write novels at her free time.
After breaking up with her college boyfriend with whom she cohabited, she moved to Washington, where she landed a job as a newsletter writer for an association of chemical traders. She also began freelance writing for a local educational magazine.
A few months after Candy's marriage, her husband encouraged her to apply for a position in his broadcaster's sister radio station that had just opened. She did, and got on air drive time slots for both morning and evening. She also worked as a reporter for AP Radio.
After giving birth, Crawley quit her job and focused on homemaking. Six years later, she rejoined AP Radio, this time as the Whitehouse correspondent.
It is during her Whitehouse reporting that NBC identified Crowley and welcomed her to work with them. Two and a half years later however, she got retrenched from NBC as the broadcaster was trimming down its workforce.
She then started doing freelance work for CNN. The broadcaster absorbed her in 1987.
Sponsored link
In 1995, she became CNN's national politics correspondent. Her new position involved lots of travel, and sometimes she had to spend days away from home, despite the fact that she was raising two kids.
Crowley also served as the host of Inside Politics. She was appointed in 2010 to host State of the Union, a position she held until retirement in 2014.
Though applauded by many for her objectivity, Candy has received a few criticisms for bias, especially during the 2012 presidential debate when she supported Obama's claims about Benghazi.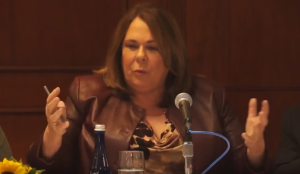 Personal life
Candy married a TV producer at age 22. Not much is known about the husband, except that he was a TV producer. The couple had two children; they stayed together for over six years before divorcing.
Although she watches a lot of soap operas and does transcendental meditation daily- things that would make somebody classify her as a believer in fantasy- Crowley has a realistic, almost pessimistic personality; for instance, in a 2010 interview with Helen McCarthy, she implies that she hadn't thought she could achieve anything much with her bachelor's degree.
Moreover, in 2010 when everybody already "knew" that she replace John King in State of the Union, Candy openly distanced herself from such speculations.
Candy Crowley – Net worth and Salary
Candy Crowley net worth is $3 million and her salary, when she was working, was close to $1.5 million.
Sponsored link