Kellyanne Conway (nee Fitzpatrick) is popularly known for working as a campaign manager for the American Republican. She is also a political strategist and pollster. After being a part of the United States Presidential Campaign for Donald Trump, she was titled as the first woman in the entire history to lead a presidential campaign and winning it as well.
Sponsored link
Conway is also the President and the Chief Executive Officer of The Polling Company Inc and Woman Trend. She is also very famous as a Television presenter and as a political commentator on Fox News, CNN and Fox Business. She has also made guest appearances on Good Morning America, Meet the Press, Hannity; etc.
Anyone who is familiar with the SNL show that features Alec Baldwin and Kate McKinnon making impressions of Donald Trump and other celebrities, they did one as Donald Trump and Kellyanne Conway. In the snippet, Alec as Donald thanked and acknowledged Kate as Conway for her contributions to the campaign without which it would not have been possible.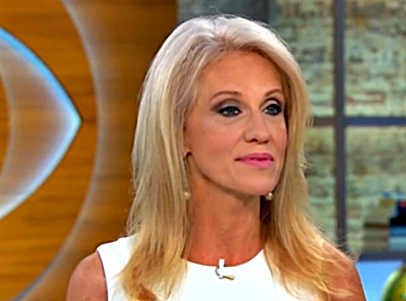 Early life and education
Kellyanne Conway was born on January 20, 1967 in Camden in New Jersey, United States to Diane Fitzpatrick. Her mother was of an Italian descendant and was a bank employee while her father was Irish and was an owner of a trucking company. Conway's parents got divorced when she was three years old.
Conway finished her schooling from St. Joseph High School in the year 1985. Later she enrolled herself in Trinity College from where she graduated with a Bachelor's in Political Science in the year 1989. After that she earned a J.D from the prestigious George Washington University Law School in 1992.
Conway has always mentioned her determination and her strong work ethic has been something that she learned from her early days in life when she worked her summers in a blueberry farm. She has always said that the key to everything good in life comes from hard work and determination.
Kellyanne Conway – Husband and Children
Conway married  litigation partner at the firm Watchell, George T. Conway III. The couple have four children together and reside in Alpine, New Jersey. Conway was a legal advisor to Paula Jones in her lawsuit against Paula Jones.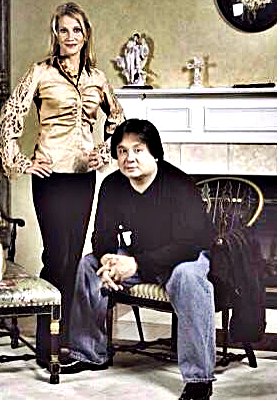 Sponsored link
Career
After receiving her J.D degree, Conway worked as a clerk for a judge in Washington. Before founding and establishing her own polling firm, she worked with Wirthlin Group and Luntz Research Company. She founded her company in the year 1995 and named it as "The Polling Company".
Her company focused for consultation regarding the customer trends and especially focus on the trends encircling women. Some of the most popular brands that have been associated with her company include Vaseline, Hasbro and American Express.
Conway started her political career working for several famous Congressmen like that of Jack Kemp and Senator Fred Thompson. Her recent political campaign projects included that of the newly elected U.S President, Donald Trump.
Apart from her company and politics, she has always been part of several demographic survey projects for several trade and private companies like that of Major League Baseball. She has also been a political commentator for CNN, Fox News et cetera.
 Contribution to Donald Trump's Presidential Win
Donald Trump appointed Kellyanne Conway as the third campaign manager for his presidential campaign, on July 1, 2016.  During that time, Trump was behind Hillary Clinton on various opinion polls.  Conway ensured that the president elect enlisted the support of many women in the course of his campaigns.  It was not easy at all given Trump did not enjoy a good record with his controversial statements against women  But Conway managed to fashion Trump and project him in the right way possible.  In fact, even through Trump is an eloquent speaker,  Conway ensured that the rough edges were taken care of.  The two have struck a good camaraderie and it is no surprise that when Trump becomes the president of US on January 20, 207,  Conway will celebrate her 50th birthday.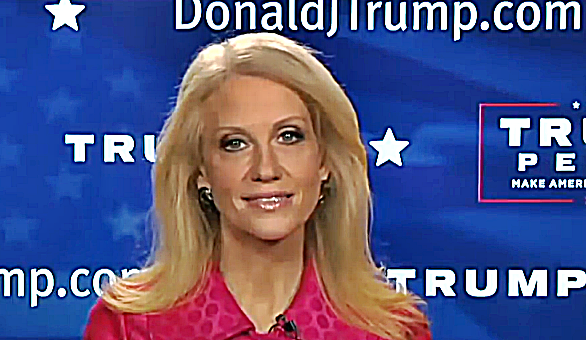 Kellyanne Conway –  Net Worth and Salary

Kellyanne Conway has an estimated net worth of $4 million. It has been reported that her polling company has collected close to $2 million in fees for her, as a part of the political campaign, twice the sum in the previous elections.
Post her appointment as the 'Counselor to the President' on January 20, 2017, her salary  is around $177,000.
Sponsored link