Katherine Anne Couric, popularly known as "Katie" is a long serving American media personality and author of a best seller. She has worked for various broadcasting stations, including ABC News, CBS and NBC. Her book, "The Best Advice I Ever Got: Lessons from Extraordinary Lives" was labeled as the 2004 best seller by the New York Times. Katie is also a member of the Television hall of fame.
Sponsored link
Early life and education
Katherine, who was born in January 7, 1957, is the daughter of John Martin and Elinor Tullie. Both her mother and father were authors; the latter worked in Washington DC as a news editor and public relations executive.
Catherine acquired her elementary and senior education at Arlington Public Schools. She then proceeded to University of Virginia to pursue a degree in American Studies.
During her teenage years, Katherine would go to WAVA- a religious radio station Owned by Salem Media group- after classes to take internship.
Apart from her media endeavors, Katie also participated in sports and was a cheerleader at York Town High School. At the university, she received induction to the coveted Delta Delta Sorority where other popular news anchors including Kiran Chetry, Vinita Nair and Debora Novile are also members.
Career rise
Catherine landed her first job at The ABC News Bureau. This was a very prestigious achievement, considering that her employer was among the three most popular broadcasters in those periods.
After a few years, Katie moved to CNN where she became an assignment editor. She did not stay in this position for too long as she moved to Miami's WTVJ still as an assignment editor. Here she received various recognitions for her good work, including an Emmy award.
It was when Katherine joined NBC News in 1989 that her media roles increased. Here she not only acted as the media outlet's deputy correspondent for Pentagon but also a sideline host as well as substitute co- anchor for Today show.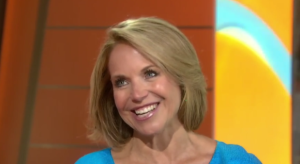 During this time, Today, which had been the number one show across the US since its debut in 1952, was rampantly losing viewership. When she took over the show as a full time host in 1951, Katherine's charm and wit started attracting the audience and from December 1995, according to Nielsen ratings, it was the most popular program for 852 consecutive weeks.
Couric moved to CBS News in 2006, where she edited and anchored evening News. here she interviewed many public figures including Sarah Palin. She was also a correspondent of 60 minutes.
In 2011, Couric joined ABC news again. She still contributes to various news houses within the firm. Katie also works for Yahoo as the firm's global news anchor.
Katie has also made appearances in various movies including Mercy Brown, Will & Grace and Austine Powers in Goldmember.
The talented news anchor quit Yahoo News in July 2017, three months after Yahoo was purchased by Verizon. Verizon combined Yahoo with AOL to create 'Oath'. As a side effect, 2000 employees were laid off  in the month of June.
fter four years, global news anchor Katie Couric is leaving Yahoo News. Couric's departure comes just three months after Verizon bought Yahoo and combined it with AOL to form Oath, and after 2,000 employees were laid off in June. The news of Couric's exit was first reported by Recode.
The decision by Yahoo CEO Marissa Mayer to sign Couric in 2013 was thought to be a high-priced gamble by the web giant. Yahoo! created the position for Couric with a salary of $6 million that was later raised to $10 million in 2015. She simultaneously served as a contributor for ABC News, while also working with Oath on a project-to-project schedule.
Post her stint with Yahoo, Couric continued with her role as an ABC news anchor. She also does podcasting for her program 'Katie Couric' that can be downloaded on iTunes.
Sponsored link
Katie Couric and her muscles
She is a fitness freak who values her health and ensures that people around her, are fit as well.  Katie loves to keep herself in good shape, her toned muscles and strong arms are a testimony to her dedication to fitness.


Katie Couric – Husband and Children

Katherine's easy personality makes her an endearing personality. She married her first husband, lawyer  John Paul Monahan in 1989. She has a daughters Ellie (born 1991) and  Carrie (born 1996), from her first marriage.   Monahan died of colon cancer in 1998, at the age of 42. In 2000, she underwent a colonoscopy on-air in 2000 and inspired others to get screened as well. She broadcasted her own mammogram, which spurred the 'Couric effect' as her way of encouraging breast cancer screening.  She is an active campaigner of cancer awareness. Her father died in 2011 from Parkinson's Disease.
Post Monahan's death,  the 1.54 meter tall Couric was in a few romantic relationships but none of them were serious enough to be considered marriage material. In 2011, she began to date the 49 year old John Molner, a financier. The 57 year old Couric married Molner  in a discreetly held weeding in The Hamptons on June 21, 2014.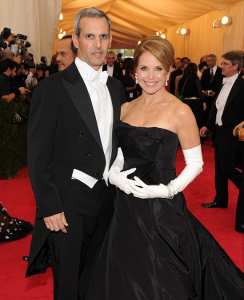 The Musclular
Katie Couric – Daughters (Pictures)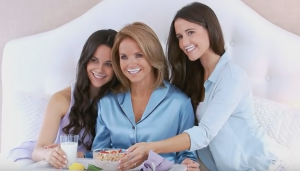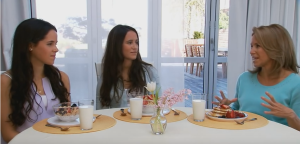 Katie Couric – net worth and salary
Katie, whose net worth is $60 Million, earns an annual salary of $10 million plus undisclosed amounts from ABC.
Sponsored link