Jenna Wolfe is a Jamaican American correspondent, journalist, personal trainer, and fitness expert currently working as a national correspondent at NBC News and a fitness and lifestyle correspondent at Today. She previously worked for Weekend Today as a news anchor.
Sponsored link
Early Life and Education
Jenna was born as Jennifer Wolfeld on 26th February 1974 in Kingston Jamaica, to Sheila Greenfeld, an American Jew originally from New Jersey, and Bennet Wolfeld, a Puerto Rican Jew who grew up in Puerto Rico. Her father ran a leather factory business in Jamaica. At the age of 5, Jenna's family moved to Haiti from Jamaica as part of the expansion of the leather factory business. She spent her early childhood in Pétionville and had a religious upbringing. Jenna even had her bat mitzvah.
Jenna moved to the US with her family in 1989. The then did her schooling at SUNY Geneseo till 1994. She attended Binghamton University and graduated in 1996 with a BA degree in English and French.
Career
Wolfe began her career in journalism as an intern at the famous Today Show. The initial part of her career included jobs at Binghamton, New York based WICZ-TV and at WUHF-TV located at Rochester in New York. She then became the first woman sportscaster at Philadelphia based WPHL-TV. Her next job was at the Madison Square Garden Network.
Jenna found fame in 2004 after she began working at NYC based WABC as an anchor for 'Eyewitness News,' the morning sports show telecast on weekends. This show had a special segment known as 'Jenna's Beef' where she presented her view of a sports event that occurred that week. This is what brought her popularity and recognition.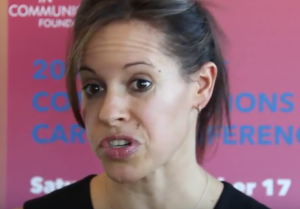 Wolfe left WABC in the year 2007 and began working for NBC News in varied positions such as NBC News National correspondent, Today correspondent, Weekend Today co-anchor, Weekend Today Sunday co-anchor, Today fill-in anchor, and Weekend Today news anchor. She stopped working as a news anchor in September 2014 and was promoted as the national correspondent for NBC News and as Today fitness and lifestyle correspondent. Aditionally, Jenna has appeared as a judge for the show 'Iron Chef' telecast on the Food Network.
Sponsored link
Jenna Wolfe – Personal Life

Jenna announced publicly that she was lesbian on 27th March 2013 and stated that she was pregnant with her first child. Her partner is Stephanie Gosk, an NBC News correspondent
Harper Estelle Wolfeld-Gosk, their first child, was born on 21st August 2013. Quinn Lily, their second daughter was born on 4th February 2015.
Wolfe is fluent in 3 languages, i.e., French, English, and Creole.
Jenna Wolfe – Salary and Net Worth
Her net worth is about $2 million and her annual salary is about $200,000.
Sponsored link