Michael Strahan is an American footballer turned media personality. During his NFL days, he would play in the defensive position. He spent his entire career playing for New York Giants. He has a record of highest number of sacks in one season in the year 2001. He won a super bowl in the year 2007.
Sponsored link
Once he quit NFL, Michael Strahan turned into a media personality. He worked  as a football analyst for Fox NFL Sunday. He would co-host the syndicate morning TV program 'Live! with Kelly and Michael' on the channel.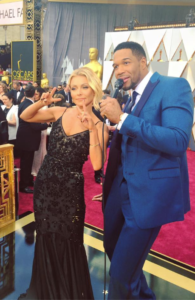 In addition to this he also works as a contributor for ABC's morning show 'Good Morning America'. He starred in a short sitcom called 'Brothers' which he had produced. Michael Strahan also hosted Pros vs. Joes with another football analyst Jay Glazer. On 2014, he got elected as football hall of fame.
On April 19, 2016, ABC confirmed that Michael Strahan was leaving Fox News to join 'Good Morning America' full-time.
Early Life
Strahan was born on  November 21, 1971, in Texas. He is the son of a basketball coach called Louise Strahan. He is the nephew of Arthur Strahan a pro football player. Strahan grew up in a family of 6 children. He is the youngest one.
When he was only 9 years old, his family moved to Benjamin Franklin Village, located in West Germany. He did not play football in his high school at Westbury High. However, he played organized football  in his senior year, when attending the Manheim American High School (Germany).
In the summer just before he started his senior year, his father sent him to his uncle Arthur Strahan, a retired professional footballer, in Houston. Strahan attended Westbury High School, in Houston (Texas). He played football for one season and got his scholarship from Texas Southern University. After the season, he went back to Germany and did his graduation from there.
College Career
Strahan followed Arthur's footsteps and pursued football. Arthur also played in the defensive position. As a footballer, Strahan played in a dominating manner. His style of double teaming was called 'Strahan Rules' by the coaches.
By the time his junior season started, Strahan started to turn himself into one of the intimidating NFL prospects. As a senior footballer, he made a record of 62 tackles with another record of 19 sacks.
In the year 1992, he was selected as 1st team All-Southwestern Athletic. He also  received SWAC's Player of the Year Award for the second year in succession.
Professional Career
Strahan got drafted by the NY Giants in the year of 1993. However, he could play only 9 games as he suffered injury throughout the season. His first few seasons were not remarkable. He got his break in the year of 1997. He created a record of 14 sacks. Later in the next year also, he continued with his success and racked 15 sacks. In the same year he was voted for the second time All-Pro and Pro-Bowl.
In 2002, NY Giants negotiated a new contract with Strahan. He claimed that the team had failed to negotiate with him after he turned down the first contract.In 2006, Strahan did not report to the Giants. It seemed like his career with the NY Giants had ended. However, he returned for the final season. This is the season which proved to be the best one for the Giants. He led his team to its first SuperBowl victory over Tom Brady and his team, New England Patriots in 2007.
Michael Strahan – Wife and Divorce
The 1.96 meter tall Strahan lives in Rutherford, New Jersey. In Germany he married his first wife Wanda Hutchins. They have a daughter called Tanita and son Michael Strahan Jr.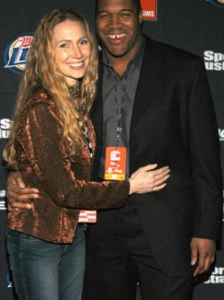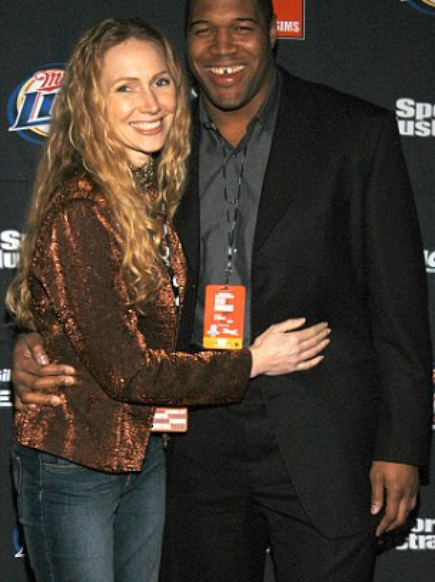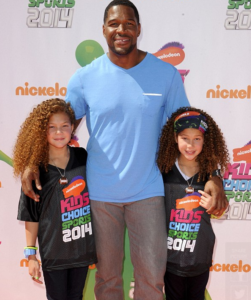 Sponsored link
In the year 1999, he got married to Jean Muggil. They have twin daughters, Sophia and Isabella. Jean and Michael had a bitter divorce in 2006.  The divorce resulted in  the judge asking Strahan to pay $15 million as divorce settlement and $18000 monthly as child support.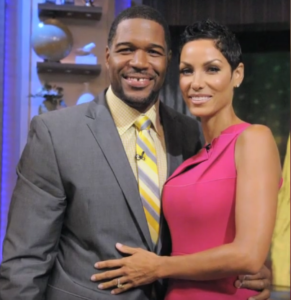 In 2009, Strahan was dating  Nicole Mitchell Murphy and they were even engaged in the same year. But the relationship split because they were not able to give time to each other due to their busy schedules.
Michael Strahan – Girlfriend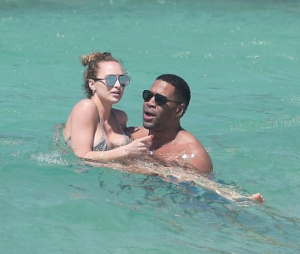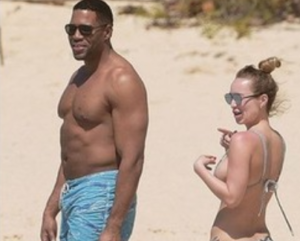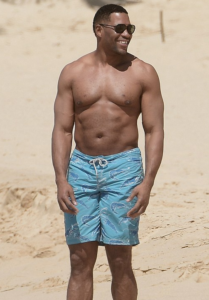 It is reported that Michael Strahan is dating Kayla Quick, a former club waitress. She is 16 years younger than him but that does not stop them from falling heads over heels in love. Both of them were spotted chilling at St.Barts Beach on March 29, 2016.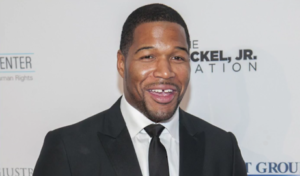 Michael Strahan – Salary and Net Worth
Michael Strahan has an estimated net worth of $55 million.  His annual salary (including the perks) is an estimate $17 million, with $10 million coming from Live! With Kelly and Michael and the rest from endorsement deals from top-line brands like Subway, Pizza Hut, Vaseline, Dr. Pepper and more.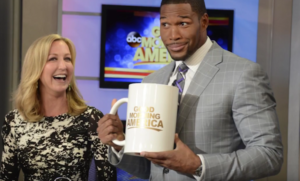 When he had joined Live! With Kelly and Michael back in 2012, Michael Strahan's salary was $4 million. One should not forget that Strahan. During his 15-year NFL career,  he earned close to $62 million.  It is believed that one of the reasons for Michael Strahan to join Good Morning America is the flattering 8-figure salary.
Sponsored link