Irina Valeryevna Shaykhislamova, a Russian super model and actress is popularly known as Irina Shayk. She became the face of Intimissimi in the year of 2007 replacing Ana Beatriz Barros. Irina Shayk is extensively recognized for her appearances in the Sports Illustrated Swimsuit Issue between 2007 and 2015. In the year 2014, Irina was introduced as the lead actress opposite to Dwayne Johnson in "Hercules".
Sponsored link
Early Life and Background
Shayk was born in Yemanzhelinsk, Russia on January 6, 1986. Her father Volga Tatar Valery Shaykhislamova was a coal miner and mother Olga worked as a kindergarten music teacher. At age six, she started playing piano and at age nine she attended the music school and studied there for seven long years.  At the age of 14, she lost her father. Irina's mother was forced to take up two jobs as they were left with very little money. After completing high school, Irina studied marketing, but failed it. Along with her older sister, she entered a beauty school. The lucky break came when she was noticed for her beauty by a person from the local modeling agency. Her modeling career started to take off when she was won the "Miss Chelyabinsk 2004".
Career Achievements
Shayk started her modeling career as a face of Intimissimi by replacing Ana Beatriz Barros in 2007, which was followed by debut in the Sports illustrated Swimsuit in the same year. Since that time, she was seen in every annual edition of Sports Illustrated covering the Swimsuit Edition tile 2015.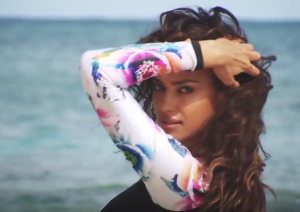 Irina continued to be the face of Intimissimi for three long years. In 2010, Shayk officially became the brand ambassador of Intimissimi. The stunning girl modeled for Armani Exchange spring/summer campaign in 2010. She was featured in the cover pages of famous magazines like Ocean Drive and GQ South Africa for the August Issue including Annabelle, Bolero, Woman, Twelv, Jalouse, Paris Capital. At the end of the year, Shayk appeared in a bare photoshoot for the GQ Spain December Issue, later she claimed that she had not stripped during the photoshoot session and the magazine had digitally altered the images to remove her lingerie.
In the year 2011, she appeared on cover pages of magazines like Tatler Russia, Twelv, Cosmopolitan Spain, GQ Mexico Glamour Spain and also appeared for the special edition for Christmas on the cover of Elle Spain. She has been ranked at 14th place in the "Top 20 Sexiest Model" List on Model.com.
In year 2012, Shayk appeared in the cover page of Harper's Bazaar Arabia and Ukraine, Marie Clarie Ukraine, Russia and Spain, Glamour Russia and also appeared on 14 Cosmopolitan spring covers worldwide.
In year 2013, Irina did the editorial for the CR fashion book issue 2 which was photographed by Bruce Weber and styled by Carine Roitfeld. In 2014 Winter Olympics, she was the placard bearer for the Russian team during the opening ceremony.
Sponsored link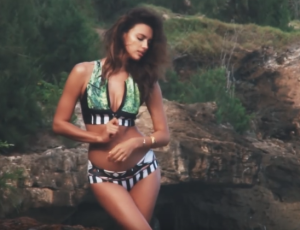 L'Oreal Paris International choose her as the spokesperson for their brand in 2015.
Irina Shayk – Net Worth
Irina Shayk's net worth is estimated at $4 Million.
 Boyfriend
The 1. 78 meter tall (5 feet 10 inch) Irina Shaynk was in a relationship with the world famous footballer Cristina Ronaldo for 5 years, from 2010 to 2015. Later in April 2015, she started dating Bradley Cooper. She named her pet dog named Caesare (a Labrador) after Julius Caesar.
Irina Shayk – House
Irina Shayk believes in investing her millions in real estate rather than stock markets. She says, "Being Russian, I believe the safest road to take is the real estate.'. She owns two apartment homes in West Village, New York and is looking to invest more in the Uptown areas.  Irina Shayk also has a couple of homes in Russia.
This is one of her homes (courtesy – Caters Photo Agency)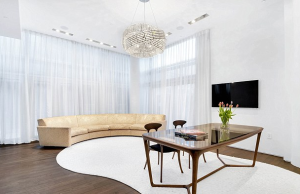 In fact, beau Bradley Cooper has been living in Irina Shayk's house in Perry St. in the West Village.
Sponsored link