Hugh Jackman is a prominent Hollywood actor, producer and singer who is best known for his movies including The X-Men series, Wolverine series, Les Miserables, Kate & Leopold and Australia.
Sponsored link
Mr. Jackman was born on October 12, 1968 in Sydney (Australia) to Grace (homemaker) and Christopher Jackman, an accountant. His ancestry is English, his parents had settled in Australia since 1967. He has four siblings, including a half-sister from his mother's second marriage.   His parents divorced when he was just eight and he spent his growing years with his father and brothers, while his mother went back with his two sisters to England.
Hugh had an avid interest in theater and cinema but was bogged down with views that this line couldn't be relied upon for a living. Nevertheless, after completing his BA, he studied acting full time, as a part of a one-year course 'The Journey' at the Actor's Center in Sydney. By the end of his education and grooming as an actor, he was sure in his mind that he would take his hobby seriously and make a vocation out of it. He was even offered a small role in the popular Australian TV series 'Neighbours' which he turned down. He perfected his art by attending the Western Australian Academy of Performing Arts in Perth.
Just thirteen seconds (as he puts it) after his final graduation performance at the Academy, Jackman got a call to be a part of the TV series for ABC, called Correlli, produced by Denise Roberts. This was Hugh Jackman's first job, where he benefited in more ways than one. He met his future wife, while working on the show. The show however lasted for only one season.
Hugh Jackman also went on to do stage theater in Melbourne. He went on to do films like Erskineville Kings and Paperback Hero (1999),and some programs for Australian TV like Blue Heelers and The Law of the Land.
Popularity outside Australia
Mr.Jackman bagged the lead role of Curly in Oklahoma!, a production of Royal National Theater in London's West End. The performance was so well received that he got the Oliver Award Nomination for Best Actor in a Musical. He also played a part in the 1999 movie version of the same musical, which did well across many countries.
Hugh Jackman's journey as Hollywood star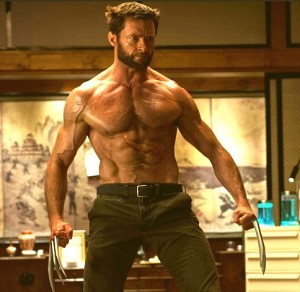 In 1999, Jackman bagged the role of Wolverine in X-Men (2000), he replaced Dougray Scott. He later revealed that his wife had advised him against taking the role, which she later admits was happy to know that her husband had not paid any heed to. Wolverine, which made Hugh Jackman a cult name; was actually a difficult role for him as he was used to theatrical form of acting. The role had few lines but enough emphasis on body language and emotions. So he watched movies like Dirty Harry and Road Warrior, films which had less of dialogue and more of emotions. He decided to get in shape and even do his own stunts for the film. He took martial arts training and watched Mike Tyson fights, to encapsulate the rage and animal fighting spirit.
Apart from Wolverine and X-Men series, Huge Jackman also acted in films like Kate & Leopold, Val Helsing, Prestige, Australia, Real Steel, Les Miserables and Prisoners. He earned his first Oscar Award nomination for Best Actor and his first Golden Globe Award for Best Actor in 2013 for his work in Les Miserables. He also won a Tony Award for his work in The Boy from Oz. He has hosted Academy Awards (2009 and Tony Awards four times, winning an Emmy Award for hosting as well.
Sponsored link
Hugh Jackman wife and age difference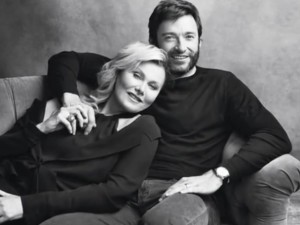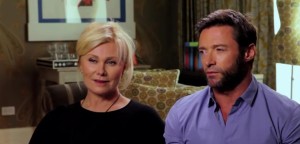 Hugh Jackman married wife Deborra –Lee Furness on April 11, 1996 at St.John's in Toorak, Victoria. They met and bonded on the sets of the Australian TV show 'Correlli'. Furness suffered two miscarriages after which the couple adopted two children, Oscar and Ava. Deborra –Lee Furnes born in 1955 is 13 years older than him.
Hugh Jackman fight against cancer (basal cell carcinoma)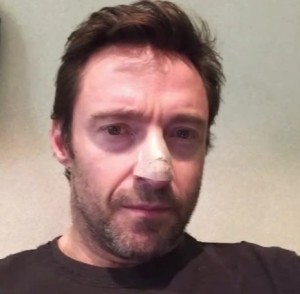 In November 2013, Hugh Jackman revealed that he had skin cancer. He stated that he had basal cell carcinoma extricated from his nose. He had another carcinoma removed from his nose in May 2014. He was seen wearing bandage on several premiers of X-Men. He has urged people to actively wear sunscreen and has said that he may have future recurrences. Hugh has stated to the media that he has to have skin check-ups done on him, every three months. He credits his wife for advising him to get a medical checkup done. Hugh said, "Deb told me to get the mark on my nose checked. Boy, was she right! I had Basal Cell Carcinoma. Please don't be foolish like me. Get yourself checked and use a sunscreen."
Hugh Jackman – height and Weight
Standing tall at 1.89m (6 feet 2 inches), he is quite taller than Wolverine, which according to the comic book character is 1.60 m or 5 feet 3 inches. The film-makers had to make him look shorter than he is in film and would shoot from waist up.
The disciplined actor also worked on his weight and built a great body for Wolverine, beefing it up to 136 kgs, emphasizing on rippling muscles.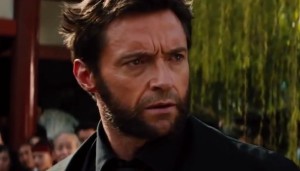 Hugh Jackman – net worth
Hugh Jackman's net worth is $100 million, earning $18 million in 2014. He is the 63rd most powerful celebrity in the world (2014 data)
Sponsored link