Howard Schultz is the founder of Starbucks. He introduced Starbucks after a visit to Milan since he loved the coffee drinking culture in the city. He wanted to add a touch of the personal to every cup of coffee.
Sponsored link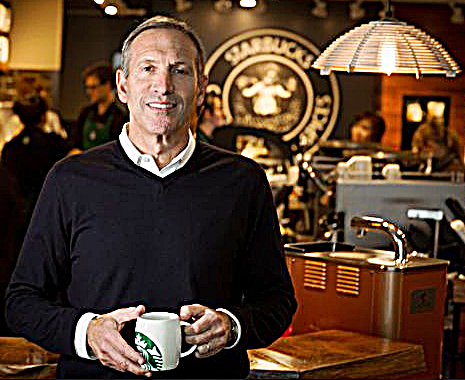 Early Life and Education
Schultz was born on 19th July 1953 to Fred and Elaine Schultz. Fred Schultz was an ex-United States Army trooper and later worked as a truck driver for picking up and delivering diapers. He had a sister, Ronnie, and brother, Michael. Schultz came from a humble background and lived at the Canarsie Bayview Houses in New York. The family managed with Fred's income, but things became bad when Fred met with an accident, and the family had to use their savings for his treatment.
Schultz did his schooling from Canarsie High School, where he was active in sports and played basketball, baseball, and football. He graduated in 1971 and went to Northern Michigan University on an athletic scholarship. Once in college, Schultz realized that he wasn't ready to play football professionally and had to give up his scholarship. He worked to pay his way through college. He would occasionally bartend and donate blood to get money.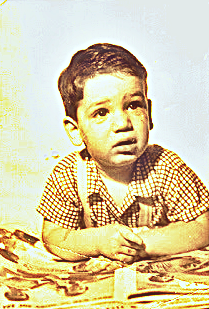 Success Story

After graduating in 1975, he didn't know what do. This was when he took up a job at a ski lodge in Michigan. His first real job was at Xerox Corporation. Schultz didn't enjoy the work much, and he left it after three years. He went to work for Hammarplast after that. Schultz enjoyed his stint with Hammarplast and grew up the ranks over the course of time. He led a sales team in the company's New York office. During his time with Hammarplast, he came in contact with Starbucks.
Starbucks Coffee Company was then a small initiative by Gerald Baldwin and Gordon Bowker. They had a few shops in Seattle. Howard Schultz first met Baldwin and Gordon when he went to find out why they placed such huge orders for plastic cone filters. Schultz loved the drive of Starbuck's owners and wanted to work with them. He pursued them to hire him and finally got a job as the director of retail operations and marketing.
While working with Starbucks, Schultz went to the International Housewares Show in Milan and was impressed with the espresso bars in the city and the coffee culture that they initiated. He wanted to open something similar back in the US. Schultz convinced Baldwin and Bowker to start a pilot project for a café that was similar to the ones he had seen in Milan. In spite of the project being a success, Baldwin and Bowker weren't keen on focusing on it. Schultz didn't appreciate the decision.
During this time, Schultz decided to quit Starbucks to focus on the coffee store on his own. He tried to take loans to set up the first store, Il Giornale. He needed $400,000 to open the first shop, but he didn't have enough money and funding wasn't easy to come by. However, his previous employers, Baldwin and Bowker, along with a benevolent benefactor helped him finance the store. It was a hard time for Howard Schultz, and it proved the strength of his dreams.
Schultz bought Starbucks from Baldwin and Bowker and became the CEO of Starbucks Corporation with six Il Giornale stores. Baldwin and Bowker wanted to focus on Peet's Coffee & Tea, and it was the perfect time for Schultz to buy Starbucks and fulfill his dream. Schultz was a great visionary and had a great sense of the real estate, which helped him expand his company rapidly.
On 26th June 1992 Starbucks Corporation made its first public offering on NASDAQ. In the same year, Howard Schultz's company opened 165 stores and earned a total revenue of $93 million. America and slowly the world caught up to the Starbuck's culture, and now the company has a global operation of 3500 stores with a total revenue of over $2.2 billion.
Schultz remembered the hardship his family underwent because his father's company didn't have an employee's health insurance and he made sure that all the employees in Starbucks got a complete health-care coverage along with stock options.
Schultz became Fortune's Businessperson of the Year in 2011 and had received a lot of awards for being a responsible CEO. He announced his resignation as CEO of Starbucks with effect from April 2017, giving the mantle to Kevin Johnson, while staying back as Executive Chairman for the company.
Sponsored link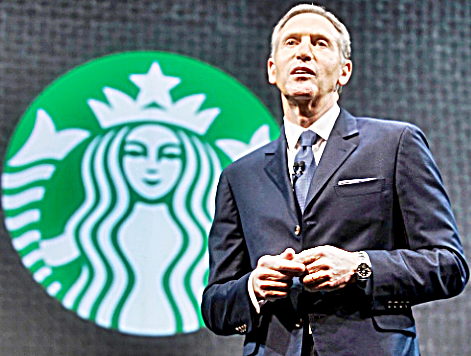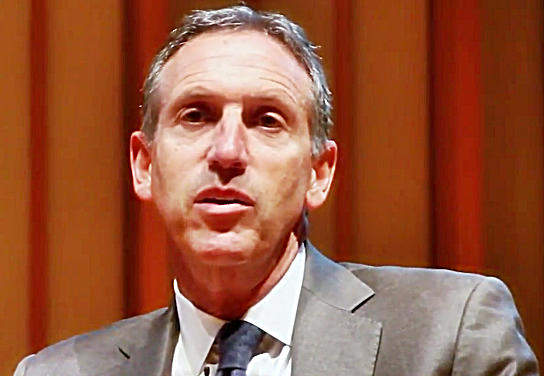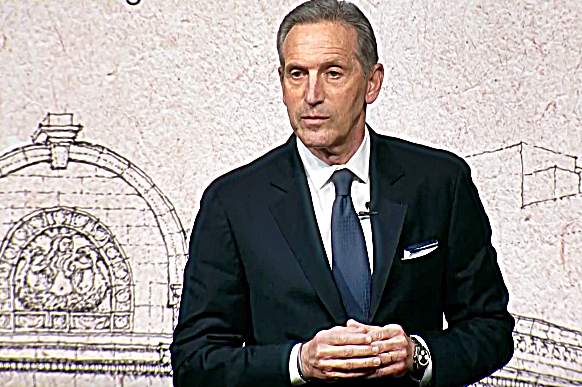 Howard Schultz – Wife and Children
Howard Schultz married Sheri Kersch in 1982, and the two have a son, Eliahu Jordan and a daughter, Addison. Their son, Eliahu Jordan is a sportswriter with The Huffington Post.
Schultz and his wife, Sheri have founded the Schultz Family Foundation that works towards promoting employment among the young people and supports the veterans and helps them make an easy transition to civil life.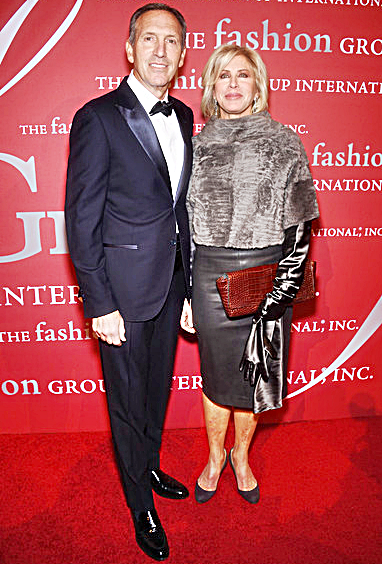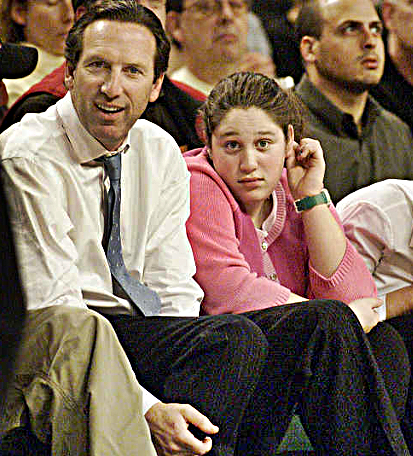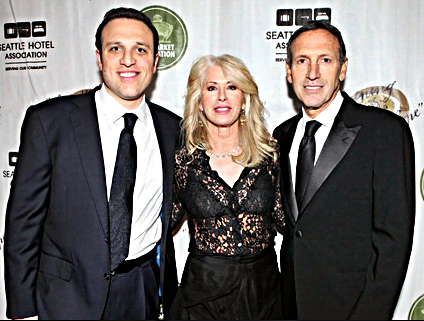 Howard Schultz – Net worth and salary
Schultz has a net worth of $2.9 billion, and drew a salary of US$ 21,775,001.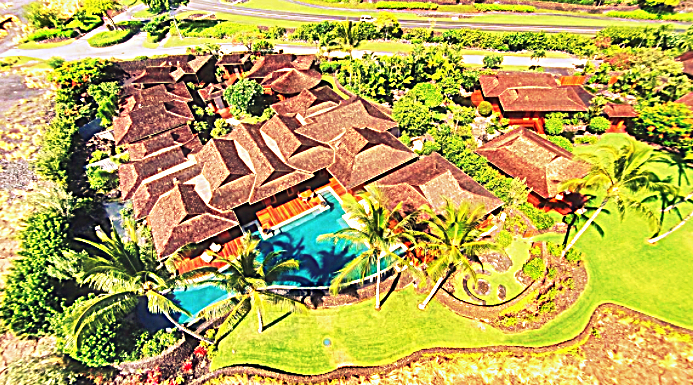 Books on Howard Schultz
Some of the books written by Howard Schultz include 'Pour Your Heart into It – How Starbucks Built a Company One Cup at a Time' in 1997. His second book 'Onward – How Starbucks Fought for its Life without Losing its Soul' was published in 2011  Both books were co-written by him.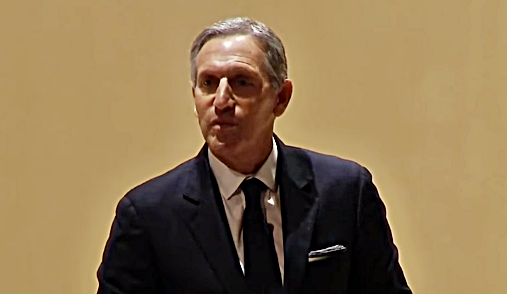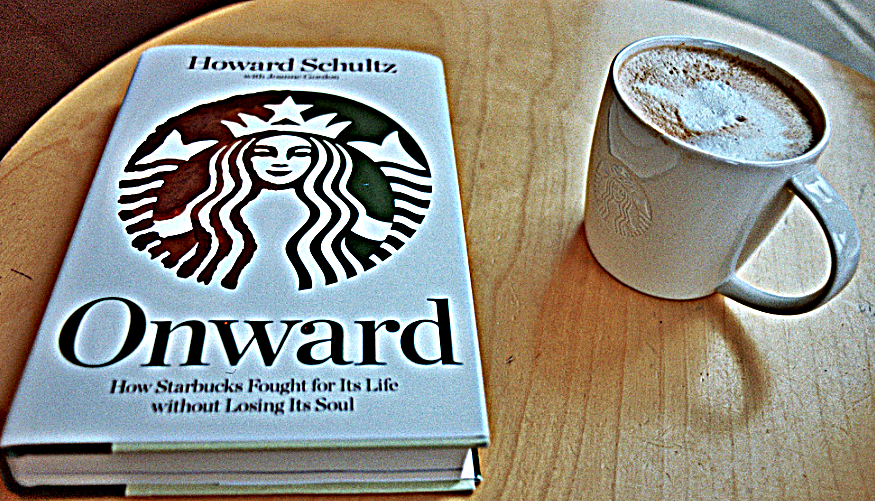 Sponsored link