Born Felix Kjellberg also popularly known as PewDiePie is a YouTube celebrity who has a huge following of close to 40 million subscribers from his comedy and video games commentary work and channel. He hosts an internet show he calls "Let's Play" that focuses on horror as well as action video games. At the 2014 Teen Choice Awards Kjellberg, he was voted the Most Popular Gaming Web Star.
Sponsored link
Early life
PewDiePie, whose real names are Felix Arvid Ulf Kjellberg was born on October 24, 1989 and raised in Gothenburg, Sweden. He is son to Johanna and Ulf Kjellberg. Kjellberg dropped out from Chalmers University of Technology and decided to pursue Internet personality career. He used his popularity in internet to raise funds for charities such as St. Jude Children's Research Hospital and World Wildlife Foundation. 
How PewDiePie conquered Youtube
 In his early years of YouTube personality, he was famous for playing horror videos. He also did action video games such as Amnesia: The Dark Descent. Starting September 2011, he began posting weekly vblogs. In these videos, he performed "Brofist" at the end.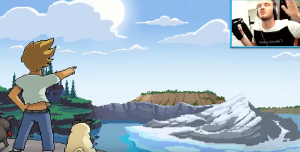 In 2014, he started playing games that he had interest in regardless of the genre. PewDiePie is also known for  showing off video games by indie developers. The main focus of his videos is reactions and commentary on various games. That's why his videos are mainly under the 'Let's Play' category, which means screenshots of a video game are showed in the video, with a commentary by PewDiePie.
The content he produces in his videos is regarded as goofy, obnoxious, energetic, and with profanity. His first YouTube account was under the name Pewdie. However, he lost the password and opened another account, which he called PewDiePie. That was on 29 April 2010.
When he dropped out of college, he didn't get support from the parents. He funded his first videos by doing work at a hot dog stand. Initially, PewDiePie didn't think that by making videos, he could make money. However, it is something that has exploded and made him rich and famous.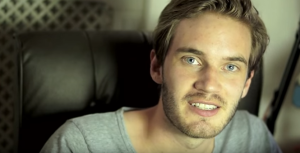 By December 2011, the channel had attracted over 60,000 subscribers. On 11 July 2012, his channel attained 1 million subscribers. PewDiePie channels attained 5 million subscribers on 18 February 2013 and in April the same year; he was featured in The New York Times after his channel surpassed 6 million subscribers. He won the Swedish Social Star at the inaugural Starcount Social Stars Awards in Singapore. He also won Most Popular Social Show. His channel was among the fastest growing in 2012 and 2013.
Sponsored link
In 2014, he said that he was updating his video production and would reduce the frequency of uploads he made. In August 2014, an official PewDiePie app intended for iPhone users was released by Maker Studio. This app allows audiences to be able to watch the videos of this gamer and create custom video lists or feeds.
Users can use the app to share the videos with others. In July 2015, the PewDiePie's videos were said to be receiving over 300 million views every month. The total views on his channel at the last count, was 10 billion, making it the most viewed Youtube channel of all time. 
PewDiePie – Girlfriend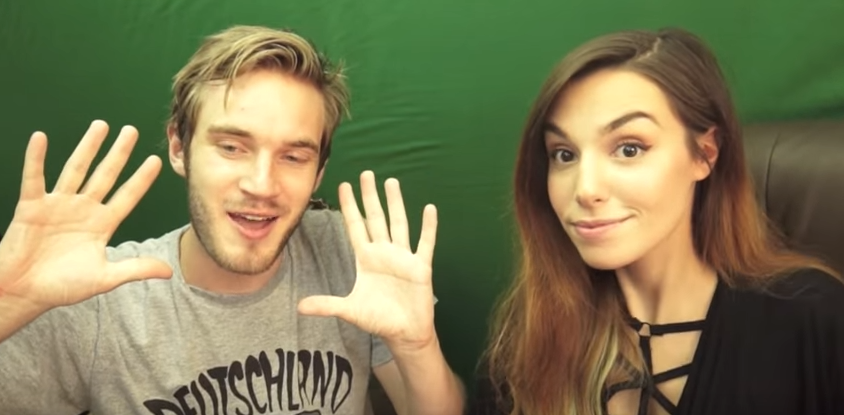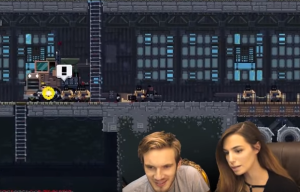 Originally, from Sweden, the 5 feet 10 inch tall  PewDiePie moved to Italy where he lived together with his girlfriend Marzia Bisognin popularly known as CutiePieMarzia. Marzia Bisognin is also a YouTube personality. The two have travelled between Sweden and Italy on different occasions before they finally settled in Brighton UK. 
PewDiePie – Net Worth and Earnings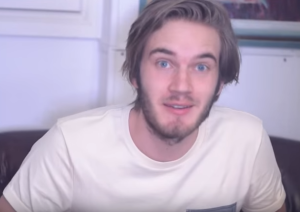 With close to 40 million subscribers,  PewDiePie is the most viewed channel of all time. His annual earning (according to Forbes for 2015) is $12 million. PewDiePie is estimated to have a net worth of $85.7 million.
Sponsored link