Michelle Phan is one of the most popular Youtube stars of all time and is one of its top 10 earners for 2015.
Sponsored link
Early life
Michelle is a native of Boston Massachusetts, and is the second born in a family of three.  She was born on April 11, 1987. She has an elder brother, Steve and younger sister, Christine. Later on, Michelle and her family moved to Tampa, Florida, where she grew up studying at the Tampa Bay Technical High School. After high school, she enrolled in the Ringling College of Art and Design, but left before she could complete her course and graduate. She started out on her own, by writing a personal blog which offered information and tips on how to put on makeup. It was not long before she got an avidfollowing, with people asking her for personal tips and requests.
Popularity on Youtube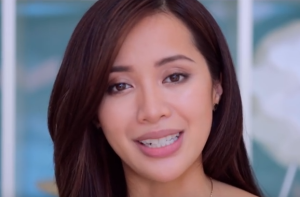 After a while. Michelle started making video blogs on Xanga, using her screen name Ricebunny, and when her following became too huge, she started posting her videos on YouTube. Before long, her YouTube channel reached a total of over 8 billion subscribersand her videos have been viewed more than 1.1 billion times. She has published 350 videos at the last count. Her videos are based on the style used by Bob Ross in his productions, where the narration was done away from the actual production with the model.
Career Rise
It was not long before Phan was noticed by the fashion and makeup world. At one time, Buzzfeed featured videos in which Michelle showed people how to make their eyes look like Lady Gaga. These tutorials went viral, with more than a million people subscribing to them. It was not long before YouTube reached out to her and offered her a partnerships in advertising, and launched the FAWN YouTube channel.
Her career was on the rise, when Lancôme, a makeup design company made her the officialmakeup artist for their brand. She was the Vietnamese face of the company, both locally and internationally. After this, Michelle formed "MyGlam" in which people could subscribe to get monthly advice on makeup. MyGlamwas then named "Ipsy," a brand that later sponsored the "Generation Beauty" conference.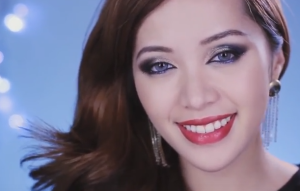 In 2014, Michelle became the new owner of her own brand, which she dedicated to her mother, and aptly named "em". Michelle turned out to be an icon millennial, and her star continues to rise. However, her career, just like of many others, has had a few bumps along the way.
Sponsored link
Music Copyright Issues
In 2014, Ultra Records sued Michelle Phan over the use of some of its music in the YouTube videos. They are looking for an award of up to $150,000 for each infringement. The company says that there were at least 50 copyright infringements, which would bring the award to a total of $7.5 million. The company says that the music she used belonged to artists who were under their label. Michelle countered this suit with one of her own, in which she says there was an agreement that allowed her to use their music. She does not say much about it, but YouTube users and producers say that there was. This is a young lady who has truly taken the fashion world by storm and seems geared to go further.
Michelle Phan – Net Worth
Currently, Michelle Phan has a net worth of $3 million. She makes an average of $60K per month and $788K on a yearly basis.
Her Book
The enterprising diva has even written a book called 'Make Up – Your Life Guide to Beauty and Success –Online and Off' which is a compilation of her work and experiences to make a woman look her best.
Michelle Phan – Boyfriend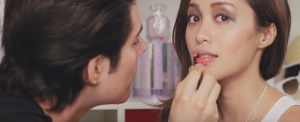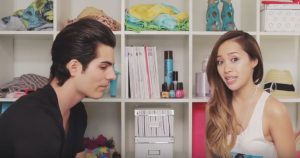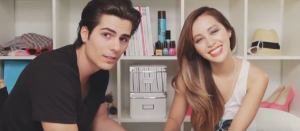 The 1.55 meter  tall stunner has a  boyfriend called Dominique Caparo.  The Swiss Model was even a Mr. Switzerland runner-up. They spent two years in a long distance relationship before they met in Paris, where the relationship strengthened. They even announced that they were a couple on a video they uploaded on January 2015.  In fact, the video in which Caparo makes an appearance with Phan is one of her popular ones, cutely titled, "My Boyfriend Does My
Sponsored link