Selena Quintanilla Perez was one of the most loved singers and entertainers of the 90s. She was called the Queen of Tejano. Her life was the classic case of rags to riches that became a cult name for Latin music; in fact, she is the one who propelled the music to mainstream circuit. Her life was cut short when she was killed by the head of her very own fan club. Years after her death, Selena Quintanilla's legacy continues to inspire people through her music and her cheerful disposition. The Billboard Magazine has called her The Top Latin Artist of the 90s and the Best Selling Latin Artist of the Decade.
Sponsored link
Selena Quintanilla was born on April 16, 1971 in Lake Jackson Texas to Abraham Quintanilla, Jr. and Marcella Ofelia. Her father was a musical aspirant who really did not achieve much of a success in his time. But he made sure that his children lived his dream. He found Selena to be extremely special with an inborn talent to sing amazingly well, with a great pitch.
Abraham Quintanilla quit his loss making hotel business to embark a different career with his family in tow. He drove a refurbished bus which would stop at fairs and events. He along with his children would sing and dance and entertain the crowd. There were times, when Abraham couldn't even afford gasoline for his vehicle but the family stuck together and created amazing music, wherever they went, playing at weddings, fairs and street corners where big events would be held. The family musical troupe called themselves Selena Y Los Dinos, it was formed when she was 9. By the time, she was eleven; it was a professional band performing at events.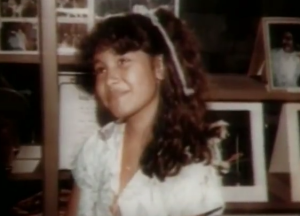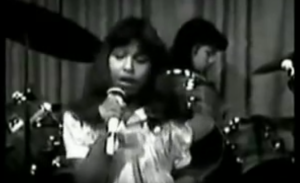 As she grew into her teens, Selena proved to be a crowd puller with her beautiful persona, outlandish dressing sense, great figure and of course, her mesmerizing voice. Selena began to record professionally since 1982. She faced opposition from critics of Tejano Music, who felt that the genre was best left to men. In 1986, GP Productions which was witness to a performance by Selena Y Los Dinos, signed them up for an annual contract. The band recorded their first full length album known as Alpha. In 1987, Munequito De Trapo (Rag Doll) was released and turned out to be a hit. At the 'Tejano Music Awards' Selena won best 'Female Vocalist of the Year' Award, a feat which she managed to do eight times over in consecutive years.
In the year 1989, Selena signed a contract with EMI Latin in 1989 and released her self-titled album, which had her brother as the song-writer and music producer. Her album 'Entre a Mi Mundo' (1992) peaked at number 1 position on the US Billboard Regional Mexican Albums chart for nineteen weeks, back to back. The song 'Como La Flor' became a signature song of Selena, a track that is evergreen and much loved even today.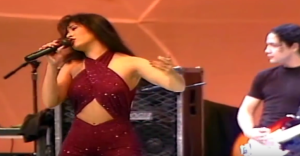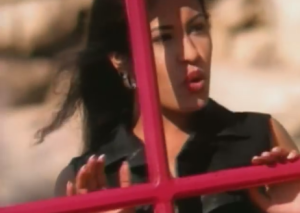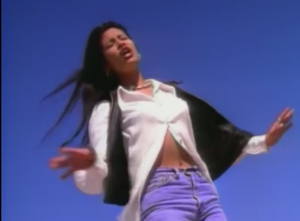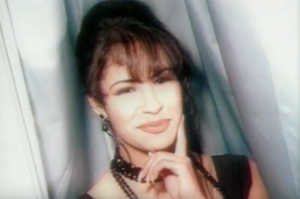 Selena Live!(1993) won the Best Mexican/American album at the Grammy Awards (1994); it was the first ever feat by a Tejano artist to get this honor. She released Amar Prohibido in 1994, which became one of the biggest selling Latin albums in the US. It made Tejano Latin music exceedingly popular and catapulted it into US mainstream music scene. By 1995, Selena began working on her crossover English album 'Dreaming of You' which met with a terrific response posthumously, featuring two landmark singles 'Dreaming of You' and 'I could fall in Love with You."
Selena Quintanilla and Chris Perez
Chris Perez joined Selena's band as a guitarist. The two became friends and soon, the relationship acquired a romantic dimension, as they began to meet each other in sly, because Selena's father was known to be quite a strict person, who would not like his daughter's mind to be diverted into anything else, other than music. To add more fuel to the fire, Chris Perez had a brush with law, couple of times over. The senior Quintanilla let him stay in the band only because he played great guitar.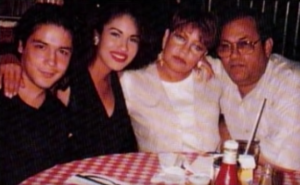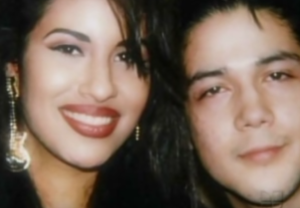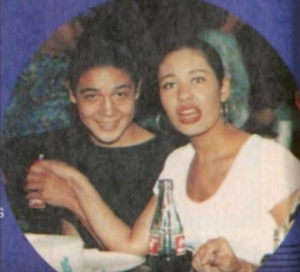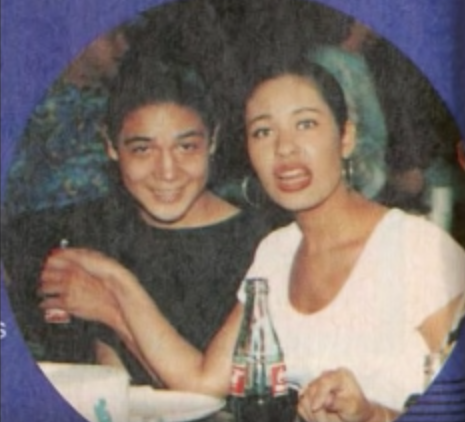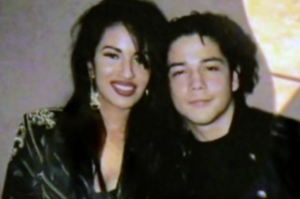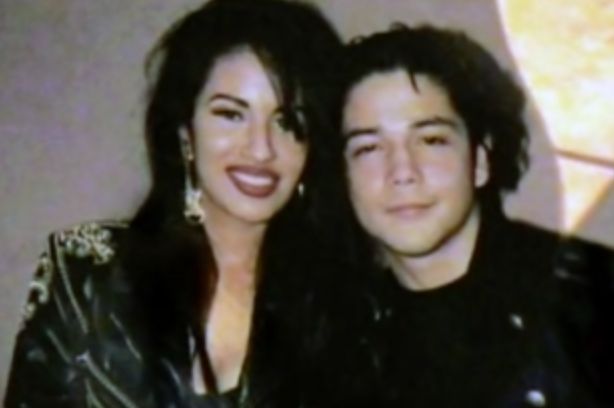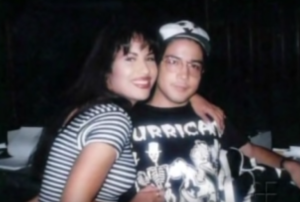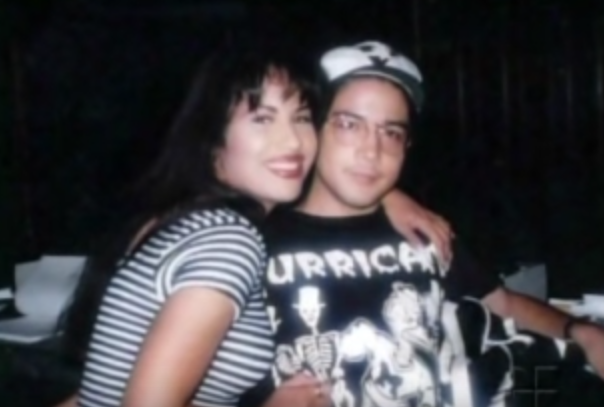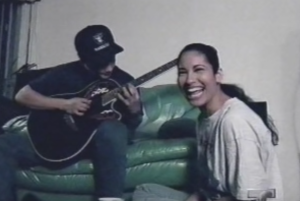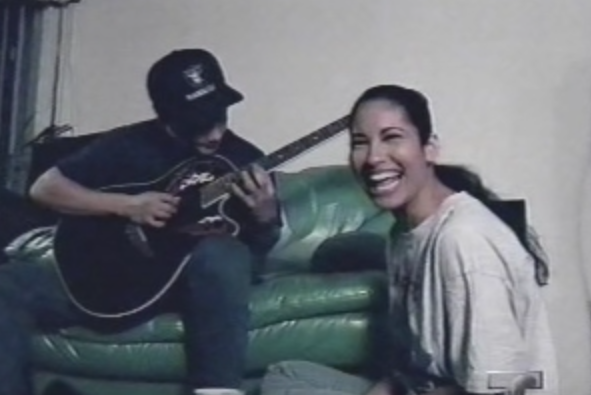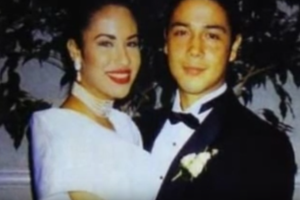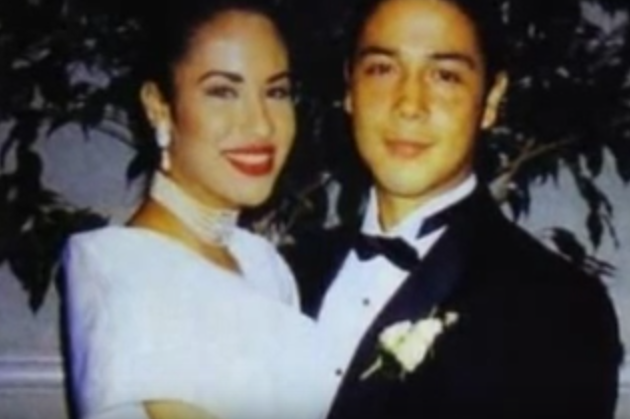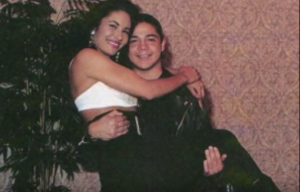 When the news of Selena dating Chris fell into his ears, Abraham Quintanilla became angry but couldn't really do much because she was adamant that she had made a decision about whom she wanted to spend her life with. Selena and Chris married secretly at a local court in 1992; the news was aired on radio to the shock of the couple. Chris says that compared to today's Twitter age, their marriage remained concealed for a day and it would have been a secret for longer period, if one of the attorneys in the court was not an excited Selena fan. Her father accepted Chris as his son-in-law and things looked great for the team once again, as they focused on music and other business ventures.
As Selena's popularity increased, she felt that she was socially accountable to her fans and began to actively take part in social causes including asking girls to complete their school and asking them to stay off drugs and alcohol. She also opened two fashion boutiques in 1994, Selena Etc in Corpus Christi and San Antonio.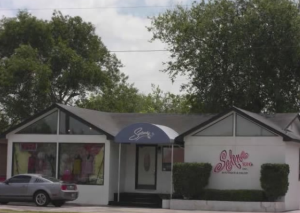 Selena Quintanilla – Murder
Selena was known to hobnob with fans easily and trust most people easily. One such folly killed her, when she became friends with on Yolanda Saldivar. In those days, instead of 'Fan Pages' on Facebook, there were real fan clubs for entertainers. A relentless Yolanda pursued Abraham endlessly and he decided to appoint this seemingly excited woman, the president of Selena's fan club, in 1991. Selena interacted with Yolanda and began to increasingly trust her, showering her with love and gifts. By 1994, Saldivar was also given the additional responsibility of managing 'Selena Etc', her fashion boutique.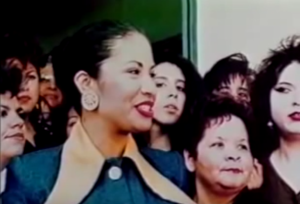 After Saldivar became the manager of Selena Etc, things took a turn for the worse. The employees began quitting citing Saldivar's dictatorial style of management as the reason. Selena of course, was busy with her music to really take note of the issue. The Quintanillas also did not really suspect much till in 1995, Abraham started get infuriated calls from fans saying that they were not getting the promised benefits even after making membership payments to the fan club. To his dismay, Abraham found out that Yolanda Saldivar had used forged checks to transfer membership payments from the fan club to her own personal bank account. On hearing this, Selena was distraught but still did not believe her father, till he showed her proof.
Selena and her family gave Saldivar an ultimatum – either proves the charges made against were wrong or face legal action. She was removed from her job. Selena was hurt because the woman she had trusted her, had looted the hard earned money of her fans. But Saldivar maintained that she was framed and that she would prove her innocence.
On March 30, 2015, Yolanda asked Selena to meet her at a motel, where she was staying. While her husband was in the car, Selena went to Yolanda's motel room to collect the bank statements. When they were riding back home, Selena felt that Saldivar had not given her all the necessary documents. Later that night before going to bed, Selena received a call from Saldivar saying that she was raped and had to be helped to the hospital. Perez (Selena's husband) told her not to trust Saldivar because it would be yet another lie, and in any case, it was too late to go back to the motel.
The next day, Chris woke to a high pitched scream from Selena. She laughed and said that she had accidentally bumped into Perez's father and told her husband to continue sleeping. By the time, Chris woke up; he was in for the tragic news of his wife being shot dead.
Sponsored link
At 7:30 AM, Selena had gone to meet Saldivar that morning without telling Perez.   She had gone to find out the condition of Saldivar. She had even taken her to the hospital. The doctor performed few tests on Saldivar and concluded that she was not raped. Selena was angry with Saldivar for lying to her and stating that she was bleeding profusely, when she had told the doctor that she had bled just a little bit. On their way to the Days Inn Motel at Corpus Christi, Selena told Saldivar that it would be best if they stayed apart for some time, because her father would be really infuriated with the turn of events.
At 10:00 Am, Perez contacted Selena to ask her where she was, because she was running late for her recording. Selena told her that she had to take care of 'one last business' and she would be back at Q Productions soon. It was the last time, the couple talked to each other.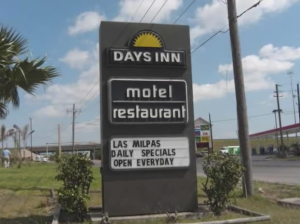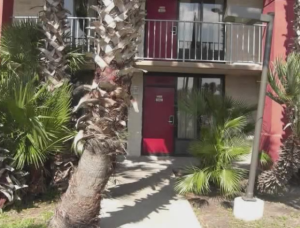 Back in the Days Inn  Motel, the arguments between the two women became worse. Selena told Saldivar point blank that she could not be trusted and that she should return her remaining financial papers. Just as she was talking, Selena saw a gun lying on the bed close to Saldivar's bag. The woman pointed the gun at Selena and as she was about to flee, Saldivar fired gun shots at her (at around 11.48 AM).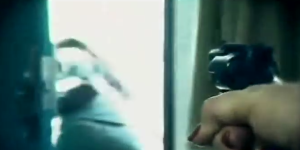 The singer ran for her life and fell down, bleeding profusely. The hotel medics came up to her rescue and tried their best to revive the singer who was fast losing consciousness. Just before losing consciousness, Selena blurted out the name of her assailant and the motel room number in which she was staying.
Selena was soon put in an ambulance that would take her to Corpus Christi Memorial Hospital. The paramedics tried their best to stop the bleeding and even administered cardiopulmonary resuscitation to keep blood circulation going but they knew that their efforts were in vain. The doctors couldn't locate her pulse on her neck and her veins seemed to have collapsed due to blood loss. By the time, Selena was rushed to Corpus Christi Memorial Hospital at 12 AM, her pupils were dilated and she was not showing any vital signs. Selena Quintanilla Perez was pronounced dead from impaired artery and blood loss, at 1:05 PM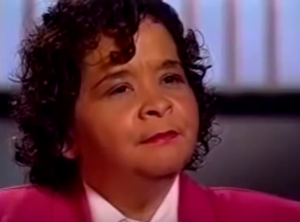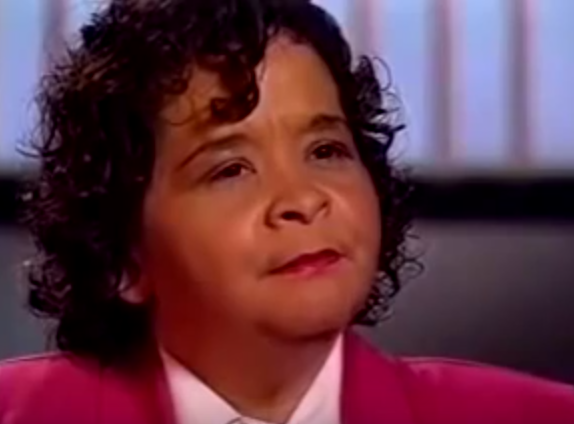 Outside the Day Inn Motel, the police were involved in a nine-hour stand-off with Yolanda Saldivar who went behind the wheel of her pick-up trust and aimed a gun at her head, continuously saying "I didn't mean to kill her." The police finally managed to talk her out of shooting herself and arrested her. Yolanda has been in prison since 1995 and will be out for parole in 2025.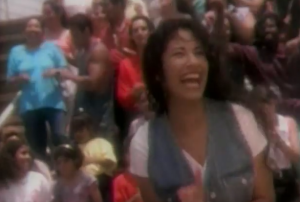 The Hispanic community and fans of Selena, the world-over were clearly shocked by her death. There were candle marches throughout Texas as the fans lamented the loss of their most loved music icon. Selena's fame and legacy over the time, has continued to grow with fans from far off continents in Asia and Africa coming to know about her incredible story. Selena was buried in Seaside Memorial Park in Texas.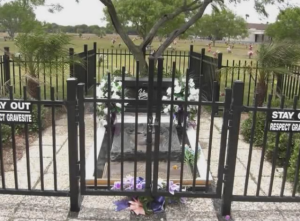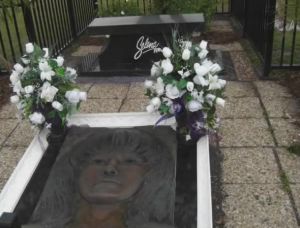 Selena Quintanilla – Trivia
Even though she was such a huge name in the business and was called a sex siren by the glamor world because of her bold dressing sense, Selena continued to be approachable and down to earth, rather than staying diva-like. She did not date anyone in her life, apart from her boyfriend Chris who went on to become her husband.
Selena loved animals; she had five dogs and one pet python. Her dream was to own a huge farm with livestock and horses. In fact, the couple had also purchased ten acres of land and were on their way to fulfill Selena's dream, when tragedy stuck.
Selena loved challenges and games, she wouldn't play to win but to enjoy the thrill of the game. She once attempted bungee jumping when someone said that she couldn't take a dare.   She loved pizza and would even finish a whole pizza all by herself. Needless to say that Selena and her beau Chris met at pizza joints most of the time. They proposed each other at Pizza Hut, at Rio Grande Valley.
Selena once drove a car over a rabbit, the incident hurt her so much that she not only spent $300 on its treatment but did not have food till she was sure that the rabbit was fine. She had a huge Faberge egg collection; her drawing room itself had more than 500 designer eggs in big glass cabinets.
Selena loved designing clothes; she would work on stitching clothes and designing them at the age of 10. She had a hand in designing her own clothes on stage. Even though she was voluptuous, she would still look hot in bustiers.
George W. Bush felicitated April 16, 1996 as 'Selena Day' in Texas. 'Dreaming of You' the album that released post her death registered highest number of sales on a day, 175,000 copies were sold on the first day, beating the records of both Madonna and Mariah Carey.
'Selena' a movie on her life released in 1997 and became one of the biggest biopic hits. More than 20000 actresses auditioned for the part and it was stated that Salma Hayek would do the role. Fans were outraged when the role fell on the lap of a relatively new Jennifer Lopez. But she lived up to the expectations and performed amazingly as Selena. In fact, Jennifer looks quite similar to Selena in the film.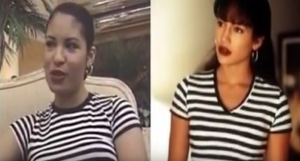 Lopez went on to say that doing the movie was a turning point of her career as well as her life. She learnt by her experience of doing the movie that life was short and time should never be wasted. Jennifer Lopez went on to act in many movies and focused on her singing career as well, attaining success in both fields.
Selena Quintanilla was not a trained singer; she only practiced and sang at every given opportunity. Mac, the lipstick king, unveiled a signature lipstick brand called Selena in 2015.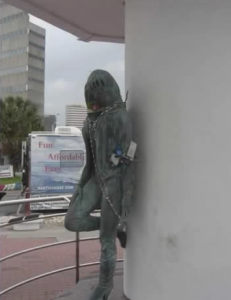 The Selena Statue called Mirador La Flor (The Flower Watcher) is a monument that was opened to public in 1997. Even today it draws nearly 42,000 people from across the world, every year.
In 2012, Chris Perez released the biography "To Selena, with Love," which is an authentic account of his life with the popular singer.
Selena was loved for her trend-setting contribution to music, but what people truly respected her was in the fact she never let fame go to her head and was as down to earth as one around her.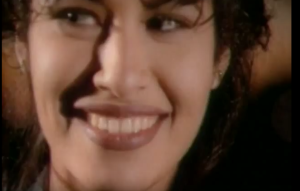 What happened to Selena Quintanilla's husband Chris Perez?
Totally shaken by the loss of the love of his life, he went into depression, going without food and drink for days. He went back to his father's place in San Antonia; Chris's friend John Garza introduced him to a girl called Venessa Villaneuva.  They dated and subsequently married in 2001. They have a boy and a girl. But the marriage did not work out and they filed for divorce in 2008. He continues to be in touch with the Quintanilla family.
In the same year as his marriage with Venessa, Chris created the Chris Perez brand. He vested all his focus in music and his band signed with Hollywood Records, releasing their first album 'Resurrection'. The album went on to win a Grammy Award for Best Latin Rock/Alternative Album. After this group disbanded,  he still continued in the music banner and created another band known as 'Chris Perez Project'. He wrote the book 'To Selena, with Love' a moving story on his life and times with Selena.
What happened to Selena Quintanilla's house?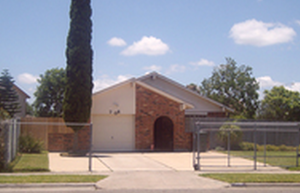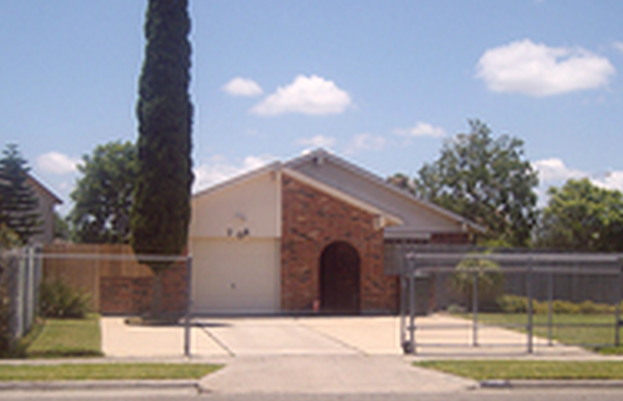 Chris moved out of the home they shared in Blomington Avenue,  in November, 1996. Almost all of Selena's item were taken out of the house and put in the museum, which include her clothes, records, awards, posters, CDs, perfumes, concert wear, car  and her favorite egg collection.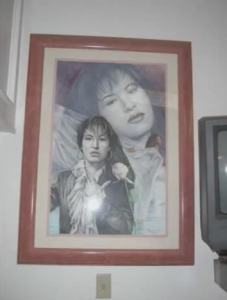 Selena Quintanilla – Net Worth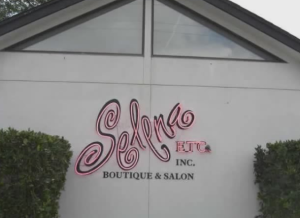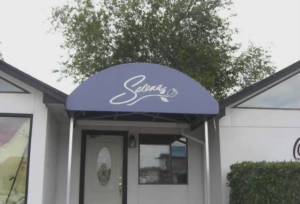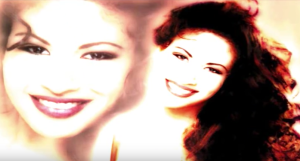 Selena Quintanilla's net worth is $10 million. In her hey days, her net worth was close to $25 million.   Apart from her music, Selena earned close to $6 million in 94-95 from her fashion boutiques. Post her death, the boutiques began to suffer losses, the San Antonio branch shut down in 1999 and the Corpus Christi main shop wound up in 2009. The singer's clothes, hats and other accessories were sold to the Selena Museum.
Sponsored link