Hoda Kotb is famous as an American Television host and news anchor. She presently serves as the co-host of the Today show, affiliated with NBC Network. In the year 2010, Kotb achieved a Daytime Emmy Award, while working for the Today show. She also serves as a correspondent for the American television legal show named Dateline NBC.
Sponsored link
Early life and background
Hoda Kotb was born on August 4 in the year 1964 in Norman, Oklahoma. She grew up in  Morgantown, West Virginia. She was born to Egyptian parents A. K. Kotb and Sameha Kotb. Hoda lived in Egypt along with her family for several years.
In the year 1982, she finished her former education from  Fort Hunt High School. After that, she attended Virginia Tech in order to pursue a bachelor degree. In the year 1986, Hoda graduated from Virginia Tech with a degree in broadcast journalism.
She served as a member of the  Delta Delta Delta Women's Sorority, during her college days. She was also selected for a three year term to the Board of Directors of the Virginia Tech Alumni Association, in the year 2010.
Career achievements
Hoda serves as the Co-host of the Today show along with  Kathie Lee Gifford. She appears on the fourth hour of this show. Since the year 1998, she has been  a correspondent for the American television show called Dateline NBC.
Apart from all these, Hoda has also appeared in several other shows. She served as the news assistant of CBS News in Cario, Egypt, in 1986. From the year 1986 to 1989, Hoda  contributed as an assignment reporter and a morning anchor for WQAD-TV. After that, she used to work as the reporter and the weekend anchor for two years on WWL-TV. She worked as the host of 'Your Total Health' from the year 2004 to 2007. In 2006, Hoda received the Edward R. Murrow Award as well as the Peabody award.
Sponsored link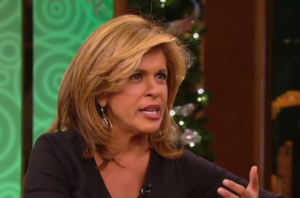 Hoda Kotb – Books
Besides being a Television personality, Hoda is also an eminent writer. Her first book, Hoda: How I Survived War Zones, Bad Hair, Cancer, and Kathie Lee was New York Times Bestselling book. Her second book Ten Years Later: Six People Who Faced Adversity and Transformed Their Lives,  was released in the year 2013.
Hoda Kotb – Husband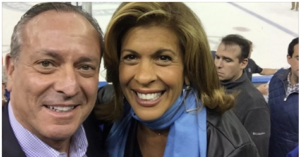 This famous news anchor married Burzis Kanga, ex tennis coach of the University of New Orleans. But the couple got separated after two years.
In the year 2007, she went through a  mastectomy and reconstructive surgery due to breast cancer. After that, Hoda Kotb has become an advocate for breast cancer awareness. She granted the Today show to broadcast the events of her life throughout her cancer battle.
After that, she dated lawyer Jay Blumenkopf but the relationship did not turn out to be successful. In the year 2015, Hoda revealed her relationship with New York financier Joel Schiffman.
Hoda Kotb – Net Worth
She has an estimated net worth of $10 million with an annual salary of $2 million.
Sponsored link