Eric Frederick Trump is an American entrepreneur, philanthropist, and businessman currently working as the development and acquisitions executive VP of The Trump Organization. He is the son of Ivana Trump and 2016 US Presidential nominee of the Republican Party, Donald Trump. Eric is also the owner of Trump Winery.
Sponsored link
In 2012, Forbes magazine named Eric in their top '30 under 30' list in real estate. Wine Enthusiast Magazine awarded him 'Rising Star of the Year' in 2013. He was listed as the "20 Most Important Young Philanthropists" by the New York Observer whose publisher is Jared Kushner, his brother-in-law.
Trump founded the Eric Trump Foundation in 2006. The philanthropic institution raises funds for terminally-ill children getting care at St. Jude Children's Research Hospital.
Early Life
Eric was born on January 6, 1984 in Manhattan. His parents divorced when he was 7 years old.
Trump went to Trinity School and later attended The Hill School in Pottstown, PA. He then attended Georgetown University in DC and graduated with an honors degree in management and finance.
Career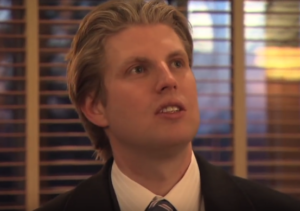 Eric Trump began his career in 2006 by joining The Trump Organization. He is currently its executive vice president of acquisitions and development. He is in charge of new project acquisition as well as global and domestic development and expansion of the real estate dealings of the company.
Along with Donald Trump his father, Eric has helped expand the properties portfolio of Trump Golf from 3 to more than 15. He is responsible for identifying and pursuing distressed golf estates in the domestic and global markets. He has been instrumental in renovation and redesign of the Trump National Doral as well as its Blue Monster course located in Miami, FL.
Along with his siblings, Trump has helped manage, create, and expand the properties of the Trump Hotel Collection. His management portfolio includes hotels all over the world, including in Chicago, Las Vegas, New York, Panama, Toronto, Waikiki, Washington D.C., Punta del Este, Vancouver, Rio de Janeiro, and the Philippines.
Trump planned and executed Charlottesville, Virginia's Kluge Winery and Vineyard acquisition. This led to the formation of Trump Winery.
Eric Trump – Wife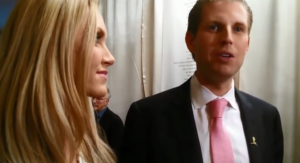 Sponsored link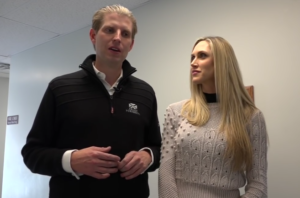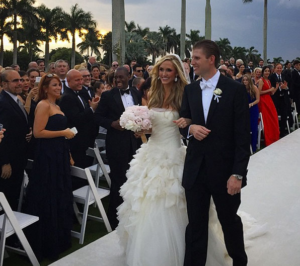 Trump and his girlfriend of 7 years, Lara Yunaska, got engaged in July 2013. They later got married at the Mar-a-Lago Club in Florida's Palm Beach.

Lara Trump is an associate producer for Inside Edition, a syndicated TV news program for CBS. She is also a fitness and nutrition enthusiast who participates in marathons and other sports and physical activities. The couple live with their dog Charlie in NYC.

Two weeks before the marriage ceremony, Lara unfortunately fractured both her wrists in a horseback riding accident. She covered the casts in long gorgeous gloves during the wedding.
Controversies and trivia

Trump was criticized by PETA and many others for an organized safari trip to Zimbabwe in 2010, where he and his brother hunted and killed animals.
He has recently been criticized for insinuating that the victims were responsible for sexual harassment and that only weak women were subjected to such harassment.
Eric Trump stands tall at 1.96 meters (6 feet 5 inches)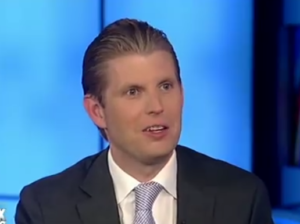 Eric Trump -Net Worth
His net worth is estimated to be about $151 million.
Sponsored link