Khaled Mohammad Khaled or popularly known as DJ Khaled is a famous American radio personality, disc jockey, record producer and also a record label executive. He was priorly known as Arab Attack but soon changed his name following the 9/11 attacks. He rose to fame after hosting the radio show for the Miami-based radio station WEDR and also was the DJ of the group Terror Squad.
Sponsored link
Khaled did a number of production works from the years 2004 till 2006 for several hip hop albums including Real Talk, True Story, All or Nothing, Me, Myself and I et. cetera. He has released a number of albums of his own and is currently the President of Def Jam South which is a very popular record label. He is also the Chief Executive Officer and the founder of We The Best Music Group. Till date, Khaled has released nine studio albums of his own.
Early life and education
DJ Khaled was born on November 26, 1975 in New Orleans, Louisiana to his parents who were Palestinian immigrants. He has always described himself as a devout Muslim and both his parents were singers who sang Arabic songs. His interest in rap and hip hop music started from a very young age of his life.
Khaled's parents have been very supportive of his decisions and career choices and have been positive about it all along. He took up working in a local recording store which helped him understand the music and its foundations way more closely.
It was his associations and the connections that he built during the initial days of his career that helped him a lot in the long run. His initial acquaintances included Lil Wayne, Birdman and even Mavado whom he met through his job in the record store located in New Orleans. Following his job in the record store, Khaled started working as a DJ in several soundclashes and did mixtapes including hip hop and dancehall.
Sponsored link
DJ Khaled – Girlfriend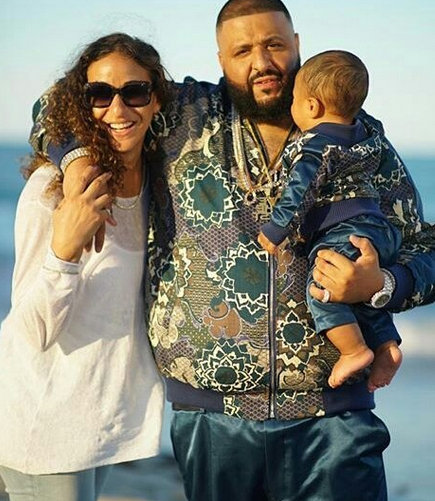 Khaled is currently engaged to Nicole Tuck and the couple have a son together, Asahd who was born on October 23, 2016.
Career
Following the small DJ gigs, Khaled started co-presenting the Campbell's WEDR show which was titled as The Luke Show with Luther Campbell in the year 1998. He even hosted a radio show on a weekly basis during 2003.
The first studio album released by Khaled was titled as Listennn… The Album and was released by the Koch Records. It went up to #12 in the Billboard Top 200 which was a pretty great achievement for his first album. His second album was named as We The Best and We Global was the third album which was released on 2008.
Khaled released his fourth studio album in the year 2006 and named it as Victory. The album was a massive hit in the charts and has collaborations with several popular artists like Drake, Lil Wayne, Snoop Dogg, Ludacris and many more. The single from the album All I Do is Win was certified as the double platinum single in the music charts. In July 2016, he released an album titled Major Key, which met with a good response.

Dj Khaled –Net Worth
DJ Khaled has an estimated net worth of $12 million.
 House
The celebrated musician bought a palatial 10,681 square feet property at Mulholland Estate. The house was bought over from English pop star Robbie Williams.
Book
DJ Khaled has written an autobiography called 'The Keys', which is based on episodes out of his life.
Sponsored link