Diane Sawyer is one of the topmost broadcast journalists in the US. She is the current anchor and host of "World News Tonight" which airs on ABC.
Sponsored link
Early life
Sawyer was born on December 22, 1945 in Glasgow, Kentucky, in the United States. Her mother was an element school teacher, while her father was a judge. She has a throwback to English, German and Scot-Irish ancestry.
Sawyer studied in Seneca High School in Louisville. She was the editor-in-chief of 'Arrow', the school newspaper. She describes herself as a loner and insecure teenager dwarfed by the popularity of her elder sister, Linda. She passed out from Wellesley College, Massachusetts with majors in English. She discovered that her interest and passion lay in journalism.
Career rise
After graduation, Diane Sawyer got herself a job as a weather forecaster for WLKY-TV in Louisville. She added glitz to the weather show by adding humors quotes and improvisations. She moved to Washington D.C. and got a job of assistant to Jerry Warren, the deputy press secretary in White House. Soon, she graduated to write press releases for the then US President Richard Nixon. Sawyer even went on to draft his public statements and helped him prepare for TV interviews.
In 1978, she joined CBS news and became the political correspondent in the early 80s. Diane Sawyer became the co-anchor of CBS News in the morning for the 90 minute slot. The ratings of the news show went northward because of her complimenting the other anchor Kuralt quite well. But once Kuralt quit the show, the ratings went down and Sawyer's role was also reassigned.
In 1984, Sawyer became the first female news reporter for 60 Minutes, the investigative TV news magazine. She worked as the female correspondent for five years and in that period, the show was among the top most watched programs in US.
In 1989, Sawyer was employed by ABC News as the co-anchor for Primetime Live, with Sam Donaldson. She was also a co-anchor for ABC's 20/20 where she teamed with Donaldson on Wednesdays and Barbara Walters on Sundays.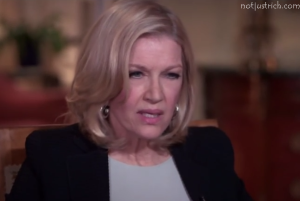 From January 1999 to 2009, she had a successful stint as the co-anchor of Good Morning America. From 2000-06, she was the co-anchor for Primetime Thursday and from December 2009 to 2014, she was the anchor of ABC World News.
Diane Lawyer – Young Pictures
Sponsored link
Diane Sawyer – Husband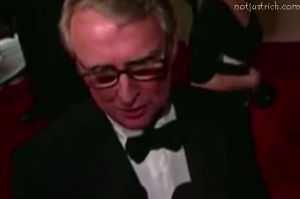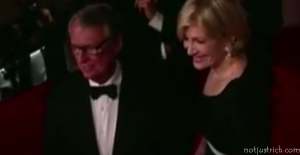 She married feature-film director Mike Nichols; he passed away in 2014 at the age of 83. They do not have any children but Nichols has three children from previous marriages. Sawyer also had ex-boyfriends in the form of Frank Gannon, when she was working for President Nixon and Richard Holbrooke, a diplomat attached to the US embassy.
Diane Lawyer – Plastic Surgery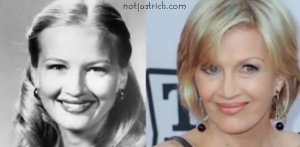 Diane's effervescent beauty, her quirky and distinctive facial features, and her changes of hairstyle have been the subject of fan and media attention for several decades. Her current appearance, which is a lot younger that her age, has given rise to speculations about whether or not she has had plastic surgery.
Diane has a flawless appearance with no crow's feet, minimal or absent wrinkles, and nil sagging around the neck. It is a look that is better than even when she was 30 years younger. Such a younger and fresher look as prompted the emergence of rumors that Sawyer may have undergone varied cosmetic procedures, including Botox, facelift, and neck lift, etc; to alter her appearance.
Experts believe that Diane may have had a facelift to re-contour her face and trim 1 or 2 prominent sags. It may have been combined with a lower facelift and/or a neck lift to eliminate excess skin around the chin and neck area. The surgeries look natural and not excessive.
Before and after photos reveal the lack of eye bags, forehead wrinkles, and crow's feet, which may be indicative of Botox injections, a forehead or brow lift, and/or Restylane fillers.
The older photos show a wide nasal tip and a minor bump. Sawyer's current nose is more refined and straighter, indicating rhinoplasty or a nose job.
Diane Sawyer – Net Worth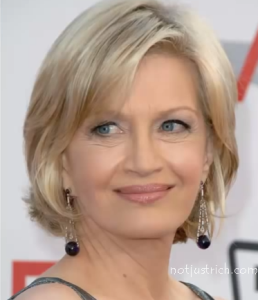 Diane Sawyer's net worth is $40 million. Her salary is $12 million per year with a monthly take-home of $1 million. She earns $48,000 on a daily basis.
Sponsored link