David Jason Muir is a reputed American Television journalist and news anchor, best known for his work on the ABC network where he hosts ABC World News Tonight which is the news department of the ABC Network in New York City. Muir previously held roles in the capacity of an anchor on the weekend edition of ABC World News Tonight and co-anchored 20/20, the news magazine from ABC.
Sponsored link
While he served as the Principal substitute on the show 'World News with Diane Sawyer' on the weeknights, Muir was named the chief anchor of the show which was renamed 'World News Tonight with David Muir' in September 2014. Muir has received several Emmy awards as well as R. Murrow awards due to his work in national and international journalism. He is one of America's most reputed and visible journalists and has received the most airtime in the years 2012 and 2013.
Early Life and Education
Muir was born on 8 November 1973, inn Syracuse, New York to Ronald Muir and his wife Patt Mills and raised as a Roman Catholic. He has one older sibling, a sister named Rebecca Muir as well as two younger step-siblings.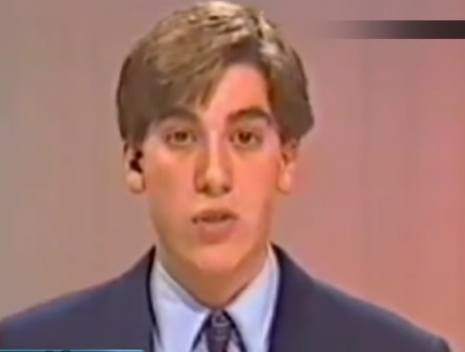 Muir attended Onondaga Central Junior-Senior High School from where he graduated in 1991. He later enrolled at the Park School of Communications at Ithaca College in Ithaca from where he graduated with a Bachelor of Arts degree in Journalism in the year 1995. He was also a student of the University of Salamanca, Spain where he enrolled in the Institute for the International Education of Students. 
Career Rise
Muir started his career in 1995, working for Syracuse's WTVH television in the capacity of a reporter and anchor. His work at the network earned him many honours from various News associations including The Associated Press and The Syracuse Press Club. He later served as a reporter and anchor at the WCVB television in Boston and won the Edward R. Murrow Award in the category of investigative reporting.
Sponsored link
Muir began his career at ABC in 2003 in the capacity of an anchor for World 'News Now' in the overnight slot. He was named the chief anchor of World News Saturday in June 2007. Later in February 2012, Mir was made the anchor of the weekend newscasts and the show was named 'World News with David Muir'. He was nominated for an Emmy for his show 'Made in America'. Muir also co-anchored ABC's 20/20 alongside Elizabeth Vargas in March 2013. Muir succeeded Diane Sawyer and was named ABC World News' anchor and Managing editor in January 2014, and debuted in the new role in September 2014. His show "World News Tonight with David Muir" was voted the most-watched evening newscast in USA in April 2015.
Personal Life
Muir has never commented upon the status of his relationships. He claims to be a private person who prefers to find recognition in his work, but is speculated to be gay. He has never spoken about his se*ual-orientation openly but was speculated to be in a relationship with field reporter and colleague Geo Benitez, until Benitez announced his relationship with Tommy DiDario.
Muir was raised as a Roman Catholic and apart from English, speaks Arabic and Spanish fluently.
David Muir – Salary and Net Worth
As of early 2017, Muir draws an annual salary of approximately $5 Million and has an estimated net worth of approximately $7.5 Million.
Sponsored link