Christopher Henry Gayle or Chris Gayle is a cricketer from Jamaica. He plays international cricket for West Indies and is considered a brilliant batsman in limited-overs cricket. He has managed to set a number of records throughout his career, in any variation of cricket game, be it One Day Internationals (ODI) or Twenty-20 games.
Sponsored link
Early Life and Background
Born on 21st September, 1979 in Kingston, Jamaica, Chris was raised in a Jamaican background. He started playing cricket from Lucas Cricket Club situated in Jamaica.
Career
He started to play for West Indies during his teenage, at an international level. After this, he made an excellent debut, at the age of 19 for Jamaica. His first ODI was played 11 months later and his Test Match was played 6 months later. In 2001, he and Daren Ganga created a record for their partnership at Queens Sports Club, Bulawayo. They had made 214 runs against Zimbabwe.
Gayle has had a slow start in his international career but gained 1000 runs within one calendar year along with Brian Lara and Vivian Richards. In 2005, he joined the Worcestershire and played eight matches for the English season after undergoing a few heart surgeries due to cardiac dysrhythmia. He set the highest record of the innings in the World T20 International cricket by scoring 117 against team South Africa. This was the first century in a T20 match and he became the first cricketer to score a century in every format of International cricket.
In 2009, he started playing for Western Australian Warriors for the Australian T20 Tournament. He joined Royal Challengers Bangalore in the fourth season of Indian Premier League. In 2010, he became the 4th cricketer to score triple centuries twice in a cricket test match after Virender Sehwag, Sir Donald Bradman, and Brian Lara.
Chris Gayle is signed for Pakistan Super League by Lahore Qalandars in 2016. The amount paid for this was $200,000. He also plays for Bangladesh Premiere League in Dhaka Gladiotors and has represented Kolkata Knight Riders, Barisal Burners and Sydney Thunders in his career life.   He captained West Indies Test team from 2007 to 2010.
Chris Gayle – Records
Gayle is known to be a destructive batsman, he is one of the 4 players who scored 2 triple-centuries in test matches – 317 against South Africa in 2005 and 333 against Sri Lanka in the year 2010. He is a big hitter and is known for his flamboyant sixes. In fact, Chris Gayle is the only player to have hit a six in the very first ball of a test match.   He scored 100 out of just 30 balls, while representing Royal Challengers Bangalore for the IPL and became the IPL with the highest individual score in a T-20 format, 175 not out.
Sponsored link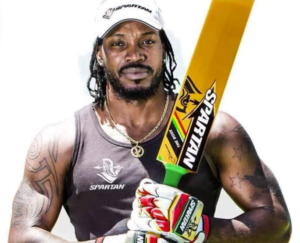 Gayle became the first batsman in the history of World Cup to score a double-century, with 200 of 138 balls against Zimbabwe in the 2015 World Cup.  The record was broken by Martin Guptill of New Zealand against West Indies. The 6 feet 2 inch tall Gayle is one of the five players with a double century to his credit in ODIs.
Chris Gayle – Girlfriend and Daughter
He is currently in a relationship with girlfriend Natasha Berridge. She gave birth to Chris' baby girl, Blush, in April 2016. They are not married.
Controversies
Chris has been under several controversies. In May 2016, he was criticized by Australian citizens for disrespecting a female reporter by asking a controversial question. This happened in Bangalore while The Times' interviewer Charlotte Edwardes was taking his interview.
A similar incident had taken place in January 2016 as well, where he asked out an interviewer for a date. He was fined Australian $10,000 for misconduct.
Chris Gayle – Net Worth and Salary
He has a reported net worth of $15 million. His annual salary is $7.5 million with an income of $4.5 million through premiere leagues. He earned $3 million through endorsements as well.
House
Gayle has a large mansion with swimming pool, gym and also a strip club in Jamaica.
Sponsored link