Christopher James 'Chris' Christie is a qualified attorney, politician and a member of the Republican Party. Chris has been the Governor of New Jersey since January 2010 and will be ending his term on January 2018.
Sponsored link
Early Life and Background
Born on September 6 1962, in Newark, to Sondra A and Wilbur James, Christie and his family soon moved to Livingston because of the 1967 Newark Riots. He completed his studies in Livingston High School in 1980 where he became class president and also played for the baseball team.
Christie started volunteering work at the age of 15 for gubernatorial campaign of Republican Thomas Kean. He completed his graduation in 1984 from the University of Delaware and earned a Juris Doctor at Seton Hall University School of Law. Later he was honored with doctorate degrees by Monmouth University and Rutgers University.
Career Achievements
He joined Cranford, a law firm Dughi, Hewit & Palatucci, in New Jersey in 1987 and soon became a partner in 1993. By the year 2002, he worked for Presidents George H.W. Bush and George W Bush; after which George W Bush appointed him as the US Attorney for New Jersey from 2002 to 2008.
Christie announced the candidacy for Governor of New Jersey in January 2009 and won the Republican primary. He also defeated Governor Jon Corzine in the election that was held that November. He was sworn for second term on January 2014 after winning the election as the Governor in 2013. Christie got elected as the chairman of the Republican Governors Association in November 21st, 2013.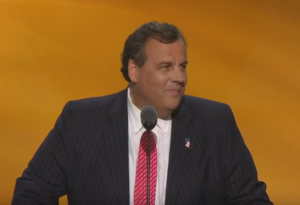 Tax incentives and credits, public employee pensions, education, minimum pay plus equal pay for women, animal welfare, homosexuality and same sex laws, energy and environment, hydraulic fracturing, abortion, drugs, firearm, vaccinations and many more issues were touched by him during his position  as the Governor of New Jersey.
On June 2015, he declared his candidacy for the Republican nomination in the year 2016 presidential elections but later suspended his candidacy on February 2016. Christie started endorsing Donald Trump as the president of America and in July 2016, Trump selected Christie to head the transition team for Trump administration.
Sponsored link
Chris Christie – Wife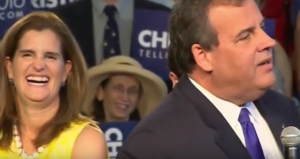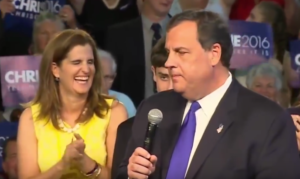 Chris Christie got married to Mary Pat Foster in 1986 and shared an apartment in New Jersey. Mary studied in University of Delaware and pursued a career as an Investment banker. She eventually worked at the Wall street firm named Cantor Fitzgerald but left the company in 2001 following the 9/11 attack. On April 2015, she became the managing director of Angelo, Gordon & Co, a Wall Street investment firm. The couple has 4 children Patrick, Andrew, Sarah and Bridget.
 Controversy
Christie filed a case against Hillary Clinton for various issues like Terrorism, on Libya, trade, Syria and Iran war.
He has also been in news for giving negative remarks about Ted Cruz's speech at the third night of Republican National Convention, saying it was selfish and awful.
Chris Christie – Net worth
The net worth of Christopher James Christie is approximately $4 million.
House
Christie and his family have a home in Mendham which has five bedrooms and seven bathrooms. The house has gourmet kitchen, Colonial style interiors, 3 set of French floors that leads to a beautiful stone terrace.
Sponsored link