Cenk Uygur is recognized as an American activist, columnist and political commentator. His full name is Cenk Kadir Uygur. He is the founder of the popular YouTube  channel 'The Young Turks.', which he co-hosts along with Ana Kasparian.  This program is based on the aspects regarding the progressive politics of America and social internet commentaries. Uygur is also the co-founder of the TYT network.
Sponsored link
Before starting his career as a political commentator, Uygur worked in New York and Washington D.C., as an attorney. In the year 2010, he also worked with MSNBC as a political commentator.
Early life and background
Cenk Uygur was born on 21st March, 1970 in Istanbul, Turkey. At the age of eight, he was raised in East Brunswick, New Jersey, by his family. After graduating from East Brunswick High School, he joined the Wharton school, University of Pennsylvania. He joined the university in order to pursue a degree in management. Apart from that, Uygur also achieved a degree of Law from the institution named Columbia Law School.He was born and brought up in a Muslim family. But later he has described himself as an atheist and "fervent agnostic".
Career achievements

After  completing law, he worked with several law firms such as Hayes and Liebman in New York; and Drinker Biddle and Reath in Washington,  as an associate attorney. After that, he worked as a talk show host in several radio programs. He also appeared on television news shows such as 'The Times in Miami'.
Finally, he started working with Sirius Satellite Radio while hosting the program named The Young Turks (TYT).
During his college days, Uygur wrote a column in a daily student newspaper named 'The Daily Pennsylvanian', criticizing the practice of affirmative action (known by other terms like 'reservation' in  India, 'positive discrimination' in the UK and 'employment equity' in Canada). His support towards socially conservative issues was his main driving force of writing such columns. Uygur criticized feminism along with arguing about the issue of treating Supreme Court justice Clarence Thomas wrongly during the Senate confirmation hearing.
Sponsored link
However, he is now serving as a progressive after changing his position. Uygur supports same-sex marriage, including LGBT rights.
During his successful career, he has been associated with many popular channels such as RT, CNN Headline News, ABC News, Al Jazeera English and Fox News channel.  Uygur served as a regular guest on the MSNBC's show named The Dylan Ratigan Show. On this show, he interviewed many controversial personalities including Julian Assange, the founder of Wikileads. In the year 2011, he explained certain political issues in George Galloway's radio program.
Cenk Uygur also launched a long term project on issues regarding political action committee, called Wolf-PAC.  This project aims to push state legislators to pass a convention regarding elections in the United States.  In the year 2012, Uygur hosted the show named Good Day L.A.
Cenk Uygur – Wife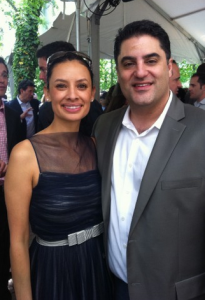 Cenk Uygur is married to Wendy Lang, who is a marriage and family therapist. They have one son and one daughter.
Cenk Uygur – Net Worth
This famous political commentator's annual salary is $3.5 million while his net worth is $9.5 million.
House
This famous television personality is reported to have been staying in West Los Angeles, California, United States.
Sponsored link