Rebecca Quick, or Becky Quick, is an American journalist, TV anchor, and newscaster currently working as the co-host of 'On the Money' and 'Squawk Box,' which are financial news programs telecast on CNBC.
Sponsored link
Early Life and Career
Becky was born on July 18, 1972. She grew up in different regions of the US, including Indiana, Oklahoma, and Texas. This was due to her father's work as a geologist who followed the oil production booms of the 70s across the US. The family finally made home in Medford, New Jersey.
After graduating from school, Quick went to Rutgers University and graduated from it in 1993 with a bachelor's degree in political science. She received the Times Mirror Fellowship as a Rutgers undergraduate from its Journalism Resources Institute. In college, she served as the editor-in-chief of the newspaper 'The Daily Targum.'
Becky worked for The Wall Street Journal as a journalist and covered topics about the e-commerce and retail industry as well as internet issues like domain name disputes and privacy concerns. In 1996, she played a major role in the launch of the website of The Wall Street Journal. She subsequently became the International News Editor of the website and oversaw the reportage of foreign affairs.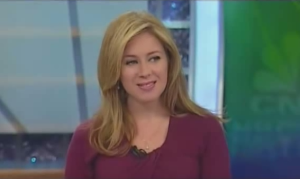 Becky left The Wall Street Journal and joined CNBC. Besides being the host of shows like On the Money and Squawk Box, she also contributes as a substitute co-host and a writer for 'Fast Money.' She was the co-moderator of the 2015 Republican Presidential debate conducted by CNBC on October 28.
Sponsored link
Becky has interviewed some of the most influential financial power brokers and investors in the world, including people like Bill Gates, Warren Buffet, Alan Greenspan, Jamie Dimon, T. Boone Pickens, and Charlie Munger, as well as 3 US Presidents. In 2007, she was the host of the TV documentary 'Warren Buffett: The Billionaire Next Door Going Global.'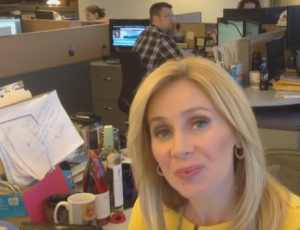 Personal Life and Trivia
Becky was previously married to a computer programmer named Peter Shay. The couple divorced after 2 years of marriage.
Quick married Matt Quayle in 2008. Matt is an executive producer of the show Squawk Box. The couple has a son named Kyle Nathaniel Quayle.
She has 3 younger brothers. It is rumored that one of them is a patient of brain trauma. It is said that this may be one of the reasons for her endorsement and support of the New Jersey based 'Brain Injury Association.'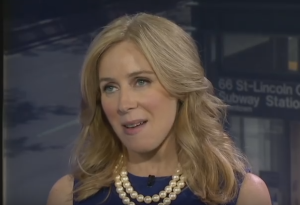 Becky Quick – Net Worth and Salary
The 5 feet 4 inch tall beauty has an annual salary of $700 thousand and a net worth of about $4 million.
Sponsored link