Barkha Dutt is an eminent Indian television journalist, anchor, news reporter and a columnist. She is currently serving as a consulting editor for NDTV. Barkha Dutt caught the fancy of the masses due to her exceptional coverage of the Kargil War in the year 1999. Her contribution to broadcasting media won her many national and international awards including the "Padma Shri" for her outstanding coverage of Tsunami in the year 2004.
Sponsored link
Early life and Back ground
Barkha Dutt was born on 18th December 1971 in New Delhi. Her father, S.P Dutta, was an Air Indian Official while her mother, Prabha Dutta was a famous journalist with the Hindustan Times. She has a younger sister who is also serving as a television journalist for CNN IBN.
After completing her school education, Barkha attended St Stephen's College, Delhi and earned her graduation degree in English literature. Thereafter, she joined the Jamia Millia Islamia University Mass Communication Research Center, New Delhi and acquired her master's degree in mass communication. Barkha was successful in earning the Inlaks Shivdasani Foundation scholarship. By means of this scholarship she joined the Columbia University's Graduate School of Journalism and earned a master's degree in journalism.
Career Achievements
Barkha started her journalism career with the popular commercial broadcasting television network named NDTV. Due to her exceptional talent she became the head of the English wing of the channel. In the year 1999, Barkha Dutt became a well known face in the media due to her reportage of Kargil war. Her interview with Vikram Batra also helped her earn popularity. In subsequent years, she has covered various conflicts in Kashmir, Pakistan, Afghanistan and Iraq.  On February 2015, Barkha became the consulting editor of NDTV. The most popular shows hosted by Barkha includes the "We the People" and "The Buck Stops Here"
Apart from this, Barkha has co-authored a chapter namely "Nothing new?': Women as Victims "in the book "Gujarat: The making of a Tragedy" by  Siddhartha Varadarajan. The book deals with the 2002 Gujarat riot. Later she wrote a book namely "The Uniquet Land" which was released in December 2015.
In her glorious career, Barkha has won many awards and recognitions which include the "TV Personality of the year" in 2012 by  Association of International Broadcasting, C H Mohammed Koya National Journalism Award in the year 2009, Indian News Broadcasting Award in 2008 for the Most Intelligent News Show Host and many more. She has been included twice in the list of 100 "Global Leader of Tomorrow" compiled by the World Economic Forum. In 2006, she was included as the member of Asia Society Fellow and serves the International Advisory Council of the Asia Society. In the year 2010, she became the member of India's National Integration Council.
Sponsored link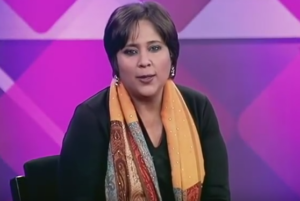 Controversies
Barkha Dutt was criticized several times for her reporting. In 2002 Gujarat Riot, while covering the news, Barkha identified the attackers and victims as "Hindus" and "Muslims" violating the guidelines of Press Trust of India. Her act garnered much criticism. Again during the Mumbai attack in 2008, Barkha was accused of putting lives at risk and causing deaths by indentifying probable locations of the hotel guest and broadcasting them live on television.
Barkha's name also surfaced in the "Red tapes Controversy". Her conversation with Radia got exposed in the media and she became the face of the tapes scandal
Husband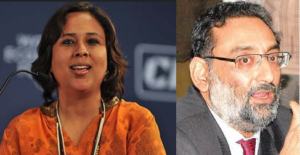 As per the media reports, Barkha first married Mir, a Kashmiri Muslim and later divorced him. In subsequent years she got married to Dr. Haseeb Drabu but broke up with him too. Presently Dr Haseeb Drabu is the finance minister of Jammu & Kashmir
Barkha Dutt – Net Worth
Barkha Dutt has a net worth of almost Rs 7 crore. She earns an annual salary of Rs.3.6 crore, with her monthly income coming to above Rs. 30 lakh. The news anchor is known to have a go-getter attitude and believes in news that is transparent and investigatory.
Sponsored link