Known for his influential involvement in yoga, Baba Ramdev has not only become a brand that represents ancient India, he has shown the modern generation the way to live healthy.   He has also made significant contributions in making Yogic lifestyle a part of daily consumption through his company 'Patanajali Ayurved'. He is also known for his political statements and contributions towards agriculture.
Sponsored link
To take his tutorial further ahead, he has written Aushadh Darshan, Pranayama Rahasya, which contains his Yoga asanas and instructions. He founded Patanjali Ayurved, an FMCG company and Patanjali Yogpeeth. His hard work and effort to make yoga famous in young India is much appreciated.
Early Life and Background
On 25th December,1965 Ramdev was born in a small town Mahendragarh, Haryana. His father Ram Yadav and mother Gulabo Devi and his sibling Ram Bharat. He studied till class 8, after that he left his school. After leaving school, he enrolled himself in acquiring knowledge of yoga and Sanskriti. When Ramdev sacrificed his worldly pleasure, and became a sanyasi, he changed his name from Ram Krishna Yadav to Baba Ramdev. He started giving yoga training to the villages in Jind district, Kalwa Gurukul. After that, Ramdev shifted to Haridwar, Uttarakhand where he started learning ancient scriptures in Gurukul Kangri Vishwavidyalaya.
Career Achievement
In year 1995, Ramdev started his career as the founder of Divya Yog Mandir. In 2003, his yoga training was featured on Aastha TV's morning yoga slot from where he started gaining his popularity. Not only in India, but his yogic practices are famous all over the world. Due to his worldwide popularity, he received a call from Kofi Annan for a lecture session on poverty alleviation in UN Conference. Ramdev has established Patanjali Yogpeeth and Patanjali Ayurved, which made him successful in his pursuit offering health through purity.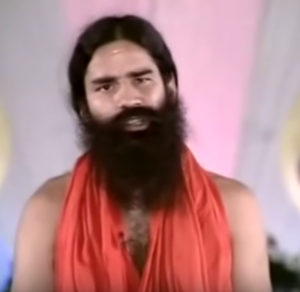 In 2007, for his notable contribution towards Vedic Science of Yoga, Ramdev had received a doctorate degree from Kalinga Institute of Industrial Technology. Ramdev has also trained famous Bollywood personalities like like Amitabh Bachchan and Shilpa Shetty.
Sponsored link
Apart from yoga, Ramdev has also taken part in politics. His controversial statements regarding politics and the country created a huge chaos, due to which he had gone through many legal actions.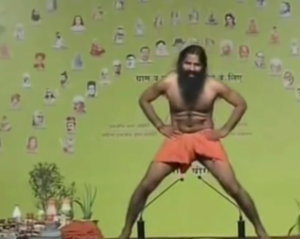 Baba Ramdev – Net worth
His net worth is estimated Rs. 1,500 crore ($224 million). In addition, his Patanjali trust earns him Rs.164.8 crore and Bharat Swabhiman, his political party, is worth an estimated Rs.10 crore.
Controversies
In his life, Baba Ramdev had made many headlines for his controversial statement. In December 2006, Ramdev gave a controversial statement that sex education should be replaced by Yoga education. This statement created a huge chaos and a legal notice was sent to him. He also denounced homosexuality as a disease, which can be cured by Yoga. During 2012 elections, he had been alleged for corruption and tax evasion.
His medicinal products were found to be contaminated. Patanjali Atta Noodles were deemed substandard by Food and Safety Drug Administration, having three times 'ash' more than the permissible limit, even more than what Maggi was found to contain.
In 2016, Ramdev has given another controversial statement. He said that he would behead those who refuse to say Bharat Mata Ki Jai. His controversial statement has shocked many people and he was parodied and trolled on various social media sites.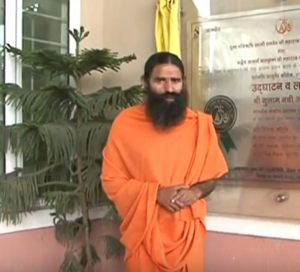 Baba Ramdev and Patanjali Ayurved
Ramdev along with Acharya Balakrishna initiated Patanjali Ayurved in 2006. The company originally based in Haridwar is India's fastest growing company with an impressive turnover crossing $670 million. Patanajli Ayurved is worth $1.9 billion. It has tied up with Future Group which sells $4.7 million (Rs. 32 crore ) worth FMCG products through its retail supermarket chain 'Big Bazaar'.
Sponsored link