Ann Hart Coulter, an American writer, political commentator, lawyer, columnist and a conservative social, frequently appears on radio and television. She also works as a public speaker and is seen in private events occasionally. Known for her harsh, sarcastic and rigid comments, she is a critic of Clinton administration. She has a straightforward attitude and loves "stirring up the pot".
Sponsored link
Early Life and Background
Born on December 8, 1961, is born to father John Vincent Coulter and mother Nell Husbands. Ann is a Christian and has two elder brothers James and John. New Canan High School is where she completed her high school from in the year 1980. She went to Cornell University after this. During her time in Cornell University, she became an active member of Delta Gamma National sorority. 1984 was the year she graduated with a degree in B.A in History. She then joined the University of Michigan Law School and served as an editor of the Michigan Law Review.  In 1988, she received a degree of Juris Doctor. Trained in the National Journalism Centre in Michigan, while staying in this state, she became the president of the local chapter of the Federalist Society.
Career Achievements
After studying in the Law school, Ann worked as a clerk for Pasco Bowman II for law. This was for the United States Court of Appeals for the Eighth Circuit, in Kansas City. She later started working for the U.S Senate Judiciary Committee, getting an experience in private sector. The issues that she covered were Immigration and Crime for Senator Spencer Abraham of Michigan.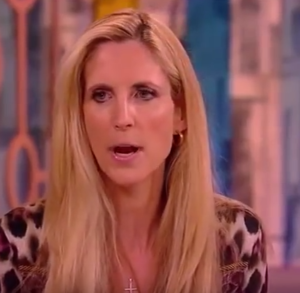 Sponsored link
Following this, Coulter worked as a litigator for the Centre for Individual Rights. She also wrote many books which are mentioned above. She started writing for Universal Press Syndicate, George Magazine, USA Today and many other magazines, websites and newspapers. 1996 was the year when she made her first appearance in the media on MSNBC as a legal correspondent. She also appeared in the Fox News and CNN channels after that. She has done several talk shows and hosted events, taken part in television and radio shows like Fifth State, The Today Show, The Hannity Show, The View etc. She has many other shows and also appeared in three films in 2004.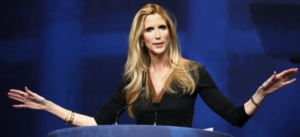 Ann Coulter – Boyfriend
Coulter, reportedly, has been engaged several times. The 1.83 meter tall and vivacious personality has dated conservative writer Dinesh D'Suza, Bob Guccione, the publisher and founder of the magazine named Spin. She has also dated Andrew Stein, the former president of the New York City Council. Having had relationships with everyone; she has not married them and does not have any children.
Coulter has her own blog site of her own named as anncoulter.com
Ann Coulter – Net Worth
This beautiful and intelligent media personality has an estimated net worth of $8.5 million.
House
Ann Coulter possesses a very big and luxurious residence in Palm Beach, Florida, USA. She has another apartment in Los Angeles.
Ann Coulter – Books
She is the author of the books like High Crimes and Misdemeanors: The Case against Bill Clinton, Slander: Liberal Lies About the American Right, Treason: Liberal Treachery from the Cold War to the War on Terrorism and many more.
Sponsored link