Angelina Jolie is not only one of the most celebrated women in the world, she is also the highest paid Hollywood actress. Apart from her accomplished movie career, she is distinguished for her wide-spread humanitarian efforts which ranges from women's rights to education and advocacy for refugees.
Sponsored link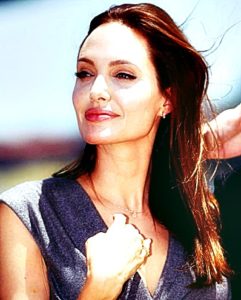 Early life
Angelina Jolie was born to actors Jon Voight and Marcheline Bertrand on June 4, 1975.  She had an elder brother, James Haven. Her parents separated in 1976. She appeared in screen for the first time at age five in her father's movie 'Lookin' to Get Out' (1982). Being attracted to the movies right from since childhood, she was clear about becoming an actress in the years to follow.
However, Jolie's teenage was fraught with self-destruction. Though she attended Beverly hills High School, she felt utterly complexed by the constant teasing and ridicule of children who came from affluent families.  Her physical appearance, gawky appearance with braces made life difficult for her. She tried modeling but even that was of no use, it only dented her self-esteem.
Finally, Jolie was transferred to Moreno High School, an alternative education institution, where she discovered a punk lifestyle. Her association with a live-in boyfriend introduced her to outlandish tendencies like slam-dancing and knife-play.  There was a time, when she contemplated becoming a funeral director and even took courses for embalming, dropping out of theater and acting classes . Post her breakup with her first boyfriend at age 16, Jolie graduated from school and took an apartment to rent, as she focused on theater again.
Jolie was prone to self-harm, and grappled with eating disorders and substance abuse.  She was given to sporadic bouts of depression and even contemplated suicide twice, at age 19. In a hard-to-believe episode, Jolie even hired a hitman to kill her, when she was 22.  She was  clear-case of nervous breakdown and was admitted to the psychiatric ward at UCLA Medical Center, where she was under medical supervision for 72 hours. She also had a strained relationship with her father. She asked the court to remove her last name and instead use her middle name, which was  her stage name, the appeal was granted in 2002. Post her mother's passing away on January 27, 2007, Jolie began working on her relationship with her father and three years later, stated that she was reconciled with him.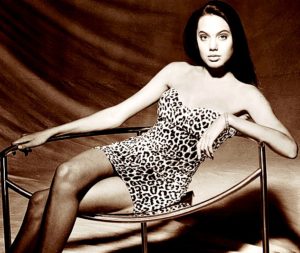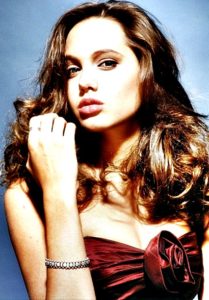 Angelina Jolie Childhood Pictures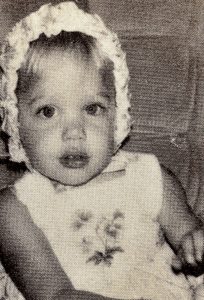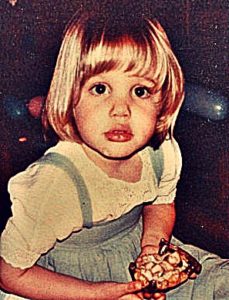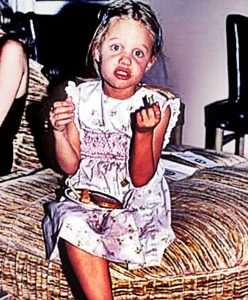 Career
Angelina Jolie had a hard-time passing auditions due to her gawky demeanor. She began acting professionally in 1993, where she signed for Cyborg 2, a made-for-video science sequel. The film tanked and went into a cocoon again, for a year. Finally, she bagged her first Hollywood project, 'Hackers' (1995), the movie flopped when it released but Jolie was recognized. Even though the movie was a disaster, when it released, it began to gain near-cult status in the years to come.
Jolie tasted fame with the release of films like  George Wallace (1997) and Gia (1998) both of which were critically acclaimed.  She went on to win an Academy Award for Best Supporting Actress for her role in 'Girl Interrupted' (1999)
Jolie became a leading Hollywood star with the release of Lara Croft – Tomb Raider (2001) where she reprised the video game heroine Lara Craft.  She followed it up with Original Sin (2001), Taking Lives (2004), Mr. & Mrs. Smith (2005), A Mighty Heart (2007) Wanted (2008) and Salt (2010).  Her role in Changeling (2008) earned her an  Academy Award nomination for Best Actress.    She was the producer for movies like In the Land of Blood and Honey (2011) and Unbroken (2014). She starred and directed the fantasy success 'Maleficent' (2014)
Philanthropy
She is noted for her charity work, which includes conservation, education, advocacy of refugees and women's rights. She has been felicitated with Jean Hersholt Humanitarian Awards besides other honors. She is also a special envoy for the UN High Commissioner for Refugees.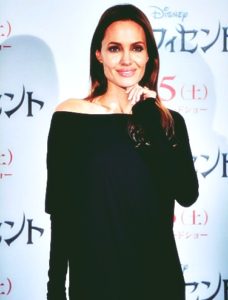 Preventive Cancer Surgery
On February 6, 2013, when she was 37, Jolie  on learning that she had an 87 percent risk of developing breast cancer due to a defective BRCA1 gene, underwent a preventative double mastectomy. Her maternal family's health history mandated genetic testing for mutations in BRCA, her mother died due to breast cancer and her grand mother passed away due to ovarian cancer.  Following the mastectomy, Jolie went for reconstructive surgery with allografts and implants.  In 2015, she went in for a preventative oophorectomy, when her annual test results suggested a 50 percent risk for ovarian cancer. She stated that she went for such preventative surgeries so that she would be there for her six children. Her decision met with unanimous praise  across several quarters, around the globe.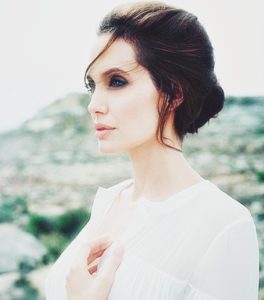 Angelina Jolie – Affairs and Relationships
After her breakup with her first boyfriend, Angelina Jolie dated British actor Jonny Lee Miller while shooting for Hackers (1995). They even marred in 1996. She attended the wedding in an eccentric getup which included a white tee and black rubber pants. The marriage however wound up in 3 years, as she filed for divorce in 1999.
Jolie was in a lesbian relationship with actress Jenny Shimizu while working on Foxfire (1996). Shimizu went on to say that Jolie was in a relationship with her, even though she dated other men. Jolie also admitted that she was in love with Shimizu for many years. The relationship reportedly, ended in 2005.
Jolie got romantically involved with actor Billy Bob Thornton and married him May 5, 2000. They divorced on May 27, 2003.  Two years later, Jolie's name came as the spoke in the wheel between the relationship of Brad Pitt and Jennifer Aniston.  She and Pitt fell in love while working in the sets of the film 'Mr and Mrs. Jolie'. After Pitt's divorce with Aniston,  he and Jolie went public with their relationship in January 2006. It was also the time when she stated that she was pregnant with Pitt's child.  In April 2012, Jolie was engaged to Pitt, formalizing seven years of relationship. They married on August 23, 2014 at their property estate Chateau Miraval in France.  On September 19, 2016, it was announced that Jolie had filed for divorce from Pitt.
Sponsored link
Angelina Jolie – Children
She adopted her first child, Maddox Chivan who was then seven months old, on March 10, 2002. The child was from an orphanage in Cambodia.  At that time, Jolie was married to Bob Thornton. Post the divorce,  Jolie raised the child as a single parent.
Jolie   adopted the six-month old Zahara Marley on July 6, 2005 from an orphanage in Addis Ababa, Ethiopia. After the name change to Jolie-Pitt, Brad Pitt formally adopted both Maddox and Zahara.
Jolie's first biological child was Shiloh Nouvel, born on March 27, 2006 in Swakopmund, Namibia. On March 15, 2007, she adopted another son called Pax Thien, then three-years old from an orphanage in Ho Chi Minh City, Vietnam. On July 12, 2008, Jolie gave birth to twins, son Knox Léon and daughter, Vivienne Marcheline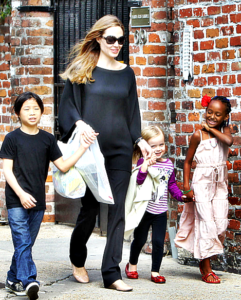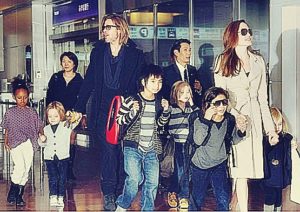 Angelina Jolie Divorce – Reason and Alimony
Brangelina was a name that was a reflection of love and solidarity between Angelina Jolie and Brad Pitt. The term was shattered on September 19, 2016, when she filed for divorce from her husband. Apparently, the separation was on September 15.  While the reason for divorce has been stated as 'irreconcilable differences', sources close to the couple state that Angelina and Brad took the decision based on the happiness of their children.
Jolie has not asked for spousal support, so she will not be seeking alimony. However, she has asked for full and total physical custody of the children. It is believe that the trigger for separation and divorce between Brad Pitt and Angelina Jolie, was his habitual addiction to wed and alcohol and his angry outburst, which Jolie perceived as negative influence on the kids.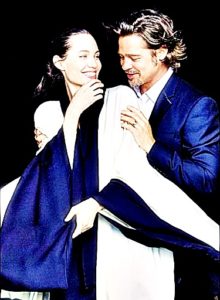 Angelina Jolie – Net Worth
Her net worth is $160 million. Together as Brangelina, their net worth was above $400 million, making them a power couple in every sense.
Angelina Jolie – House
She owns her own home at Lauren Canyon. Along with Brad Pitt, she has bought several homes.  One of them is a $6.5 million property in New Orleans, replete with 5 bedrooms, 3.5 bathrooms and a huge guest house.  Another property is the one near the luxury hotel, Waldorf Astoria Towers.
The couple also jointly own a $5 million house in Santa Barbara, California which is used as a vacation home. The most incredible property that Brad Pitt and Angelina Jolie own jointly is the Chateau Miraval, a royal estate in Correns, France. It sprawls across 1200 acres, has 35 rooms in the main housing area with other homes given on rent. The property purchased for $40 million in 2012, is the place where the couple got married. The property is replete with pine forests, olive trees, a private lake, vineyards and a moat.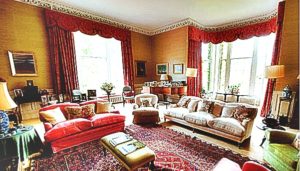 Sponsored link