Andy Grove  (Andrew Stephen Grove) was a pioneer in the semi-conductor industry. He is known as the man who was instrumental in the Silicon Valley growth.  One of the greatest business leaders of all time and a huge inspiration for the likes of Steve Jobs, Andy Grove passed away on March 21, 2016, succumbing to Parkinson's Disease, a  condition that he was diagnosed with since 2000.
Sponsored link
Early life
Andy Grove was born on September 2, 1936 in Budapest, Hungary. He was educated in the  City College of New York and then graduated from University of California (Berkley) with a PhD in 1963.  At age 20, he fled the communist-dominated Hungary, where he completed education at the aforementioned institutions.
Post his Ph.D., Grove worked at Fairchild Semiconductor as a researcher. By 1967, he was promoted to the post of the assistant director of development where he was a part of the core team that developed integrated circuits, which would go on to create the microcomputer revolution.
How Andy Grove created the Intel growth story
In 1968, Robert Noyce and Gordon Moore co-founded Intel and Andy Grove who had quit Fairchild Semiconductor, became the third employee of the company, joining it on the day of incorporation of the multinational giant.  Grove was responsible for steering the company into  progress and making it Intel a market leader for computer processors.
In the beginning, Intel manufactured DRAM (Dynamic random-access memory) chips.  With the influx of Japanese-created memory chips at cheaper costs, Intel was heading towards loss.  Grove steam-rolled major changes in the company, which turned to be extremely progressive. He discontinued DRAM production and concentrated on  manufacturing microprocessors.  Grove also struck a deal with IBM to use only Intel microprocessors for their personal computers.
With time, computer brands veered towards using Intel as a microprocessor of choice.  The company revenue increased from just $2672 in its first year to more than  $20.82 billion in 1997.
Andy Grove is known to  have heralded Intel to the enviable position as a market leader for microprocessors. As a CEO (1987 to 1998), he helped the company achieve an astounding growth of 4500%  in terms of market capitalization for the company, from just $4 billion to $197 billion.
The Intel Corporation is now one of the world's biggest and most valued semi-conductor chip manufactures in the world.  The x86 microprocessor series found in most personal computers is an Intel creation.  Intel manufactures microprocessors for world's leading computer manufacturers like Apple, Dell, Samsung and HP.  Intel also manufactures motherboard chipsets,  embedded processors, integrated circuits, flash memory graphic cards, network interface controllers and other computing and communication devices.
Sponsored link
Andy Grove  has been conferred with many awards and honors which include  J.J. Ebers Award (1974), Time Person of the Year Award  (1997) and CEO of the Year (CEO Magazine) 1997.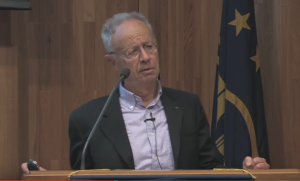 Andy Grove's management and leadership style
Andy Grove's famous quote is  'The devil is in the details'. He even corrected his own spelling mistakes.  He  was known to be disciplined and detailed oriented as a person.  He never remained complacent and fostered an environment that nurturer innovation, growth and creativity.  His office was just another cubicle like other employees in Intel even when he was the CEO and chairman of the company. He believed in being accessible and a team-player.
Andy Grove did not have a reserved parking space for his cars, had lunch with his colleagues and would bond with them well. People who know him, admire him for being modest and humble, yet success-driven.  Andy Grove did not have expensive cars, airplane or any such frills that merited his position in the industry.
Andy Grove quotes
Some of his popular quotes include
The devil is in the details
Success breeds complacency. Complacency breeds failure. Only the paranoid survive.
A corporation is a living organism; it has to continue to shed its skin. Methods have to change. Focus has to change. Values have to change. The sum total of those changes is transformation.
Leaders have to act more quickly today.  The pressure comes much faster.
I have been quote as all companies in future will be Internet companies. I still believe in that. More than ever, really.
Andy Grove – wife and children
Andy Grove met his future wife Eva Kastan in 1957; he had barely arrived in the US at that time. His wife was a fellow refugee. They met when he was working as a busboy, while she was  a waitress.  They married in June 1958 and have two daughters.
Andy Grove books
Some of his notable works include
Physics and Technology of Semiconductor Devices (1967)
Only the Paranoid Survive, (1996)
Andy Grove – death
The visionary leader passed away on March 21, 2016 at the age of 79. Doctors have attributed the death to Parkinson's Disease that he was suffering from since 2000. He was a huge contributor to many foundations that work towards the cure of the disease.
Andy Grove – Net Worth
He had a net worth of $400 million.
Sponsored link