Amy Beth Schumer is a writer, stand-up comedian, actress and producer  from America. She is the co-producer, creator, co-writer  and star of the sketch comedy series Inside Amy Schumer. The comedy show has received a Peabody Award. In 2015, She has been nominated for five Primetime Emmy Awards for her contribution to the television series. In the same year, Amy also wrote and acted in the comedy film named Trainwreck. She possesses her own blog site called amyschumer.com.
Sponsored link
Early life and background
Amy Schumer was born on 1st June, 1981 in Manhattan, New York.  Her father, Gordon Schumer, was the owner of a baby furniture company. The name of her mother is Sandra (nee Jones).  Amy also has a younger brother, Jason Stein, who is a popular musician. Her younger sister, Kimberly, is a producer and a comedy writer.
Her parents got divorced when she was around 12 years old. She shifted to Long Island in order to complete her high school education from South Side High School. She graduated from that school in the year 1999.
After completing her high school education, Schumer shifted to Baltimore, Maryland. There she joined Towson University to pursue a bachelor degree in theatre. After completing her graduation in 2003, Schumer went back to New York City. There she studied at the William Esper Studio along with serving as a waitress and bartender.
Career achievement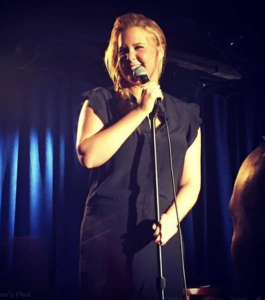 The Hollywood star's success did not come easily. It needed years of hard work both inside and outside of the industry. She began her career as a stand-up comedian in the year 2004, when she first performed at Gotham Comedy Club. In 2007, she took part in the television reality talent show named last Comic Standing and placed fourth.  In 2008, Schumer placed second on Comedy Central's Reality Bites.
Sponsored link
Schumer performed in various shows such as the Adult Swim series Delocated,  WTF with Marc Maron, HBO series Girls and Curb Your Enthusiasm and many more. She also served as a frequent guest on Red Eye wl Greg Gutfeld, a late night program on Fox News.
In the year 2012, She starred in three comedy films such as Sleepwalk with Me, Price check and Seeking a Friend for the End of the World. In the same year she started working for the sketch comedy series Inside Amy Schumer, for Comedy Central.  The program caught fire in its second season. The successful  third season of the series, featured high profile guests like Patricia Arquette, Tina Fey and Julia Louis-Dreyfus.
In 2015, she was listed among one of the 100 most influential people by Time magazine.
Controversy
In 2016, Amy Schumer was blamed of stealing jokes from eminent comedians such as Kathleen Madigan, Tammy Pescatelli, Patric O'Neal and Wendy Liebman. However, Schumer dismissed the allegations. Other famous comedians such as Dave Rubin and Marc Maron supported her.
Amy Schumer – Boyfriend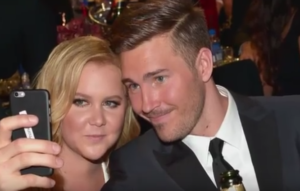 Talking about her personal life,  the 1. 7 meter tall Schumer has dated comedian Anthony Jeselnik, as well as professional wrestler Dolph Ziggler. In the year 2016, she hinted that she was in a liaison with furniture designer Ben Hanisch, who has an uncanny resemblance to Ryan Gosling.
Amy Schumer – Net worth
The current net worth of this eminent stand up comedian reaches an amount of $10 million.
House
Amy Schumer obtains a posh apartment in the upper west side of Manhattan. But  she is trying to sell this mansion for $2.075 million.
Sponsored link