Alisher Burkhanovich Usmanov is a Russian business tycoon with interests in numerous economic fields. As per Forbes, his estimated net worth as of March 2014 was about $17.2 billion.
Sponsored link
In 2014, Usmanov was the biggest riser in the list of the richest people in the world. According to Forbes, he is the richest man in Russia and the 34th wealthiest in the world.The oligarch was ranked as the 2nd richest person in the United Kingdom by The Sunday Times in May 2014.
Alisher owns a 5 century old Tudor house in Surrey as well as a Victorian mansion worth $77 million in North London. The big spender purchased the entire art collection of late cellist Mstislav Rostropovich for $31 million and donated it to a state museum.
The Giving List ranks Alisher as the 97th best philanthropist in the world. Last year, he gave away $120 million for charitable purposes. He co-founded the Arts, Science, and Sports Charity Foundation; is a guarantor of 'One Thousand Russian Cities,' a charity project; and is a major supporter of the successful bid for 2018 Russian football World Cup.
Mr. Ushmanov showed a heart-felt gesture by paying $AU4.9 million  for James Watson's Nobel Prize medal, which the latter had got for discovering DNA.  The Russian magnate intends to return the medal (23 karat gold ) to Watson. He said in his press statement,  "In my opinion, a situation in which an outstanding scientist has to sell a medal recognising his achievements is unacceptable. James Watson is one of the greatest biologists in the history of mankind and his award for the discovery of DNA structure has to belong to him."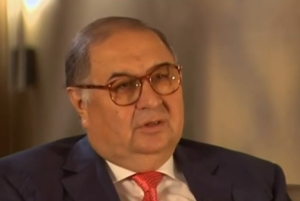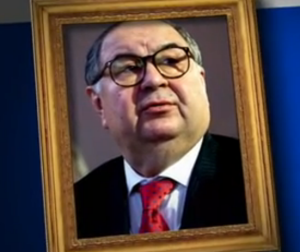 How did Alisher Usmanov become the richest man in Russia?
In 2009, Usmanov's Digital Sky Technologies,  in which he owns 32 per cent stake, coughed up $200 million for a 1.96% share in Facebook. When the company went public, Alisher became the richest man in Russia.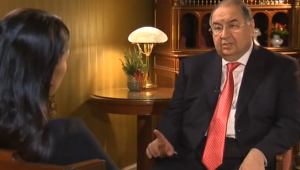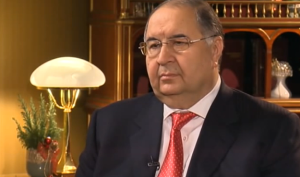 The Businesses of Alisher Usmanov
Alisher Usmanov is primarily a steel and iron ore business magnate. He created and expanded his wealth via mining and metal operations as well as investments. He is the co-founder and the majority (45 percent) stakeholder in Metalloinvest, an industrial conglomerate and the biggest producer of iron ore in Russia.Metalloinvest owns numerous mining and metal businesses in Russia as well as auxiliary businesses such as exploration of the ocean floor for deposits of polymetallic sulfide.

His business partner and co-founder of Metalloinvest Vasiliy Anisimov assists him in management of the company and its varied acquisitions in the metal and mining industry.

USM Holdings: It is a global conglomerate with major investments in the mining and metals industry, iron ore and steel, media, Internet companies, technology, timber, and telecom. Alisher has 100 percent voting rights and 60 percent economic interest in USM holdings. He has stakes in all of the above sectors via USM and as a private individual investor.

Some of the major acquisitions include stakes in Australian gold producer Medusa Mining, and other Australian mining companies Aztec Resources, Mt. Gibson, and Strike Resources; and Nautilus Minerals, a London listed company currently mining for copper and gold deposits off the coast of Papua New Guinea.
ru Group: Usmanov is a majority (17.9 percent) shareholder in Mail.ru Group, formerly called DST/Digital Sky Technologies. This company purchased a 1.96 holding in Facebook for $200 million in May 2009, which has since been sold off by the billionaire. The group also invested in other Internet companies like Groupon, Twitter, Zynga, ZocDoc, AirBnB, 360buy, and Alibaba. His investment in Alibaba has since seen an increase in value by nearly 500 percent.
Usmanov invested $100 million in Apple in 2013 which he disposed in 2014.
Usmanov has recently invested in Xiaomi, a low-cost smartphone manufacturer in China. He has stated that it will be a technology giant in the future.
He has a 29 percent stake in Arsenal, an English professional soccer club.
Usmanov also wants to invest in India in the near future, especially in the online trade sector.

MegaFon: It is the 2nd largest mobile phone carrier in Russia and Usmanov is a co-owner. Over the past decade, this telephone operator's subscriber base has seen a considerable increase and now has over 65 million users.
Gazprominvest Holdings: It is the investment holding subsidiary of Gazprom, a state-owned gas firm in Russia. Alisher is the General Director of this holding company. He has been praised for conceptualizing and implementing the gas firm's strategy for successful recovery of shares and assets.
Kommersant and other media companies: Usmanov began to invest in media after 2006. He subsequently purchased the Kommersant Publishing Houses for $200 million; a 75 percent stake in MUZ-TV, a Russian music TV channel, for $300 million; and a 50% stake in 7TV, a Russian sports TV channel, for $25 million. He is also the co-owner of UTH, a media holding company with stakes in U television channels and Disney Russia.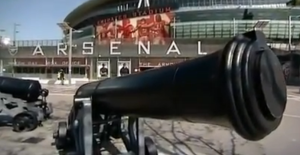 Personal life

Alisher Usmanov was born on 9th September 1953 to a former Tashkent state prosecutor in the Chust Namangan area of Uzbekistan. He went to the Moscow State Institute of International Relations and graduated in 1976 with a degree in International law.It was in college that he became familiar with perspectives and trends.In 1997, he studied banking and finance at the Academy of Finance.
Usmanov's early life was controversial. He has stated that he became a victim of political repression during those times. Alisher was convicted for several crimes, including extortion and fraud, in 1980 and was sent to a Tashkent prison for eight years. He was released 6 years later on accord of sincere remorse and good behavior. A Soviet court then cleared his record and dismissed all the charges.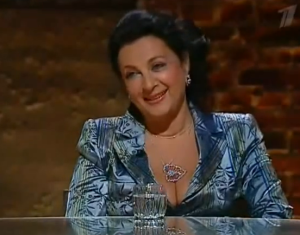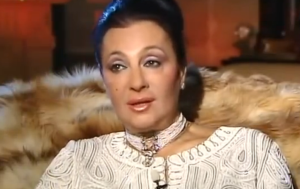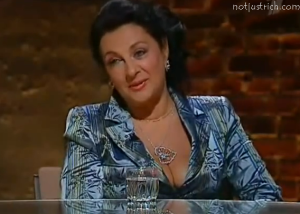 Alisher Usmanov, a Muslim, is married to Irina Viner, a Jewish rhythmic gymnastics coach. He married her in 1992 and they have remained together since then. The two have no biological children. Usmanov however has a stepson through his wife. He is an investor in real estate and is currently building numerous real estate projects.
Sponsored link
Alisher Usmanov – Homes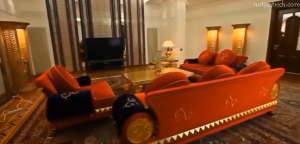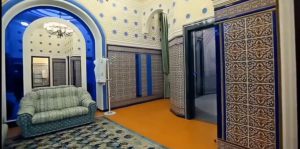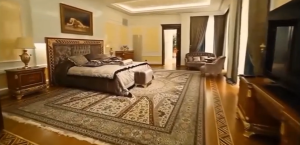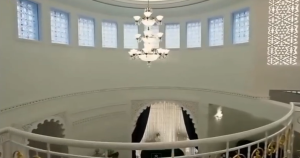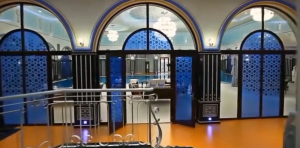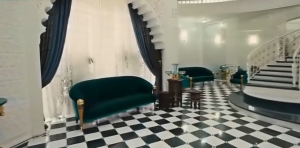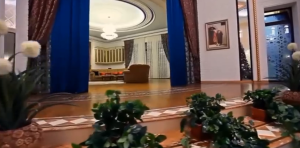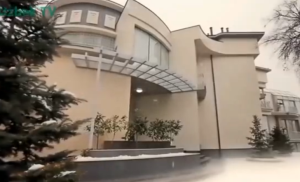 Beechwood house: Located in posh Highgate Society, Hampstead Lane, London, Usmanov purchased this 1838-constructed, Grade-II listed, stucco Regency-style white Victorian villa in 2008 for a mind-boggling $77 million. The mansion is currently undergoing renovation for addition of modern amenities and luxuries.
Tudor mansion: Located in Surrey, England, this Grade-I listed, five century old mansion was purchased by Usmanov for $10 million. It has been the billionaire's secondary home since 2004. The main house has 6 bedrooms and 10lavish reception rooms.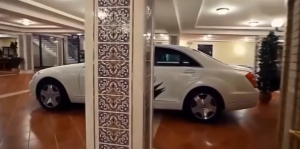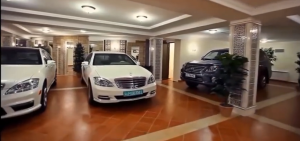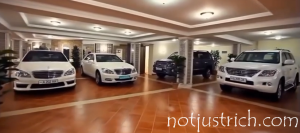 Alisher Usmanov – Yacht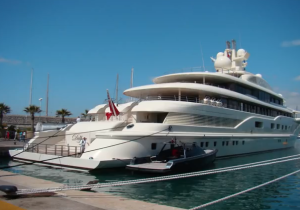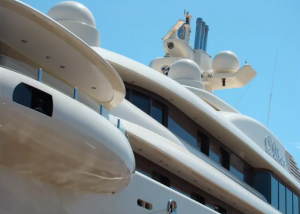 Dilbar: Named after Usmanov's mother, construction of this $263 million super -yacht began in 2008 after taking environment conservation into account.It is the first yacht in the world to have particle filters in the exhausts of the main engine so as to limit carbon emissions.In addition to 9 suites that can accommodate 20 guests and cabins for a crew of 48, the mega yacht features numerous luxuries like 2 dedicated helipads, Jacuzzi, and pool, etc.
Alisher Usmanov – Jet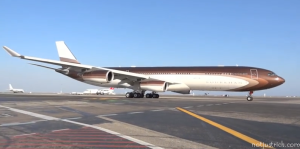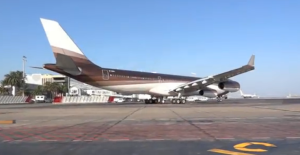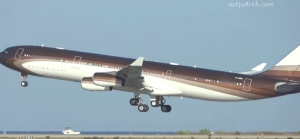 Mr. Usmanov bought the Airbus A340 which is the biggest private jet in Russia and also in the entire Europe. The cost of the plane is reportedly $500 million.
Sponsored link